(10 a.m. EST) -- Virgin Voyages' first ship, 2,750-passenger Scarlet Lady, has completed sea trials and is on schedule for its maiden voyage from Miami on April 1.
Company founder Richard Branson toured the ship with other executives and ceremoniously painted a red outline on the hull where the company's logo will appear. Virgin Voyages also released a video offering the public a first look at the vessel.
"The stereotype of a cruise ship is not something I'd particularly want to go on," Branson says in the video. "So, we thought if we could create the kind of cruise ship that ourselves and our friends would want to go on, then we'd go on it … I think it'll be incredibly well received by people who love what Virgin has done in the past."
The ship, the first of four vessels planned by the new cruise line, will sail seven-night Caribbean itineraries out of Miami. All will be adults-only, with a minimum sailing age of 18 years old.
Featured Videos
NCL's Restart: What It's Like On The First Norwegian Cruise Ship Back in 16 Months
Here's What It's Like Onboard the First Large Cruise Ship to Alaska in 21 Months
Perfect Day at CocoCay: Here's How We Spent 2 DAYS at Royal Caribbean's Private Island
Our Celebrity Silhouette Cruise Experience: March 2020 vs. July 2021
Back on Celebrity Silhouette: Here's What It's Like On One Of Our Favorite Ships 15 Months Later
Celebrity Millennium -- Video Tour & Ship Review (2021)
LIVE: Cruise Critic is Onboard Celebrity Apex -- The Magic Carpet
Q&A: Cruisers and Crew Chat About The Joy of Cruising's Return
LIVE: Cruise Critic is Onboard Celebrity Apex -- Eden
LIVE: Cruise Critic is Onboard Celebrity Apex -- The Retreat
LIVE: Cruise Critic is Onboard Celebrity Apex -- Infinite Veranda Cabins
LIVE: Cruise Critic is Onboard Celebrity Apex -- Your Cruise Director
LIVE: Cruise Critic is Onboard Celebrity Apex -- Pools
LIVE: Cruise Critic is Onboard Celebrity Apex -- Embarkation
Live From Adventure of the Seas: What's the Same, What's Different and What's Better?
5 Reasons MSC Cruises' Yacht Club Is Worth The Splurge
Best Spots For Adults On A Disney Cruise Ship
Video Highlights From The Impractical Jokers Cruise 4 (2018)
How River Cruising Allows You To Explore Like A Local
Inside Look 2018 Ship-Hop: A Cruise Vacation For '90s Lovers
River Cruising: Video Q&A With John Waggoner On American Countess, American Queen Steamboat Company's Newest Ship
The Most Luxurious Cruise Ship Suites at Sea - Video Guide
5 Ways A Seabourn Cruise Will Make You Feel Special - Video Tour
Love Luxury Resorts? Here's Why You Should Cruise Seabourn
5 Best Onboard Spots For Wine And Tapas
5 Crazy Cruise Deck Attractions For the Adrenaline Junkie
Cruise Embarkation Tips: What NOT To Do On Your First Day
MSC Virtuosa Ship Tour: What It's Like Onboard MSC's Newest Ship (May 2021)
Video Scenes From The Golden Girls Theme Cruise 2019
Virgin Voyages Unveils Beach Club And Entertainment
First Look At Virgin Voyages' Scarlet Lady
Virgin Voyages Reveals Suite Design New Cruise Ship
4 Best Places To Get Craft Beer At Sea - Video Guide
Sneak Peek: Disney Fantasy Highlights For Kids - Video Tour
7 Can't-Miss Experiences on Allure Of The Seas
Highlights From Regent Seven Seas Explorer
Harmony Of The Seas Cabins - Video Tour - Cruise Critic
Cruise Critic Tries The Ultimate Abyss Slide On Harmony Of The Seas (POV Video)
HRH Prince Phillip Visits Cunard's Fleet
Scarlet Lady was named after one of Virgin Atlantic's first planes and sailed its first sea trial from Genoa to Marseille on Nov.15 and then back from Marseille to Genoa Nov. 27.
"We're thrilled to have completed such a significant milestone with our sea trial," Tom McAlpin, Virgin Voyages CEO, said in a statement. "We're one step closer to getting our sailors on the Scarlet Lady and are grateful for all that have chosen to join us on this adventure."
Before the ship's maiden voyage, which is expected to be celebrity-packed, the line has planned two three-day "Sneak-a-Peek" sailings on March 26 and March 29.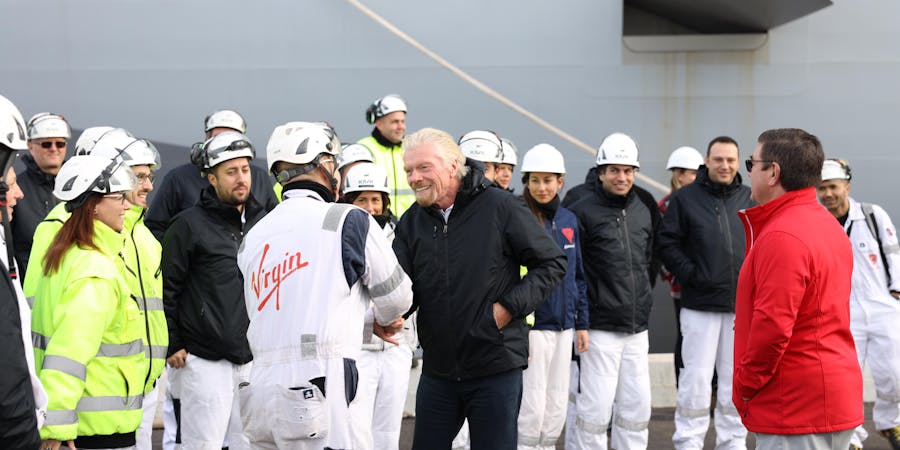 Virgin Voyages aims to build on Branon's star power. Nightlife is expected to be one of the main draws of the ship, with lots of bars and lounges and unusual nighttime activities, including aerialist shows, comed​​y performances, pop-up music and interactive theate
Additionally, the fleet is being designed around a "Vitamin Sea" philosophy that emphasizes daytime relaxation and wellness.
"Virgin likes to surprise..." Branson says, "... we've gone into quite a few different sectors in my lifetime, and I think we've surprised people and changed those industries for the better. And I'm absolutely convinced we can do the same in the cruise -- or what we call voyages -- business."