Even with accommodations, meals and entertainment wrapped up in its fares, cruising can still be pricy if you're taking the entire family on an oceangoing getaway. Just when you thought that bringing the brood would break the bank, we've come up with a list of lines that let kids sail free.
If the idea of free cruises for kids gets your heart racing with excitement, be aware of a few caveats: With most lines, free kids fares are only available as limited-time promotions, require applicable taxes and fees to be paid for each passenger and necessitate sharing a cabin with the junior travellers as the third and/or fourth passengers in the room. (Contact a travel agent or your cruise line for specific information before booking any cruise.)
1. MSC Cruises
This Mediterranean line is splashy and elegant -- and it's also affordable. With colourful, fun children's facilities, onboard arcade games and partnerships with LEGO and European brand Chicco, MSC ships are decidedly kid-friendly. Bonus: MSC vessels cater to an international passenger base, so they're ideal for children who are curious about other languages and cultures. Kids younger than 12 generally cruise gratis when they share a cabin with their parents; however, the offer will be subject to availability for children older than 2. Children ages 12 to 17 can also sail free during low and shoulder seasons, availability permitting. (Taxes and fees must still be paid on all free cruise fares.)
---
2. Norwegian Cruise Line
Norwegian Cruise Line sometimes offers "friends and family sail free" deals as part of its Free at Sea pick-your-perk promotion; this means that third and fourth passengers in a cabin (e.g., your kids) don't have to pay the cruise fare. The line's newer ships have a dizzying array of options that include arcade games, onboard bowling, top-deck ropes courses, circus school and dinner theater with acrobats and magicians. Additionally, all ships provide programming especially for the kiddos via Splash Academy, the line's kids club.
Featured Videos
The Most Exciting New Ships In 2021
Star Wars Day At Sea On Disney Cruise Line
Adventures By Disney Seine River Cruises
3 Reasons To Book An Adventures By Disney Cruise Tour - Video
Inside Cabins On Cruise Ships: Whose Is Best?
Sneak Peek: Disney Fantasy Highlights For Kids - Video Tour
Harmony Of The Seas Youth Place
Cruise Critic Tries The Ultimate Abyss Slide On Harmony Of The Seas (POV Video)
BOLT: We Try Carnival Mardi Gras' Roller Coaster at Sea
Live From Carnival's Mardi Gras: The French Quarter
---
3. Royal Caribbean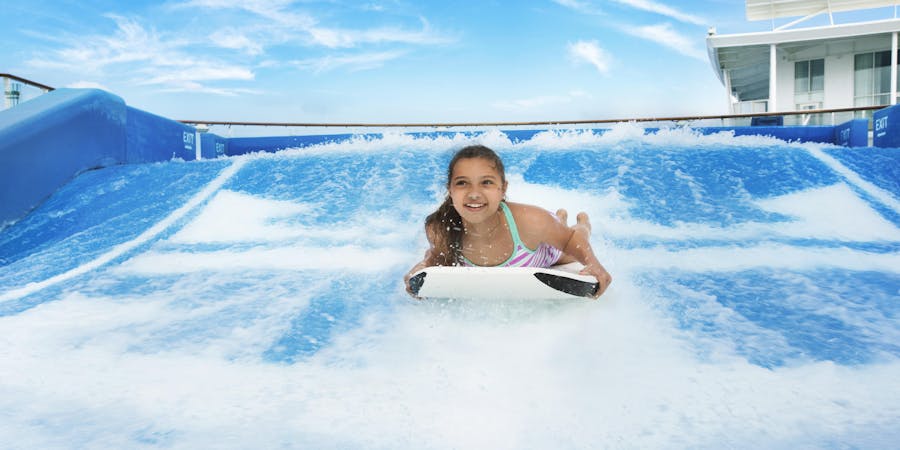 Royal Caribbean achieves consistently high marks for its children's offerings. Newer ships boast youth clubs with onboard science labs, art studios and stages for kids, as well as nurseries and play areas for babies and toddlers. Beyond specific programs, ships throughout the fleet offer kid-friendly pastimes like character parades, water play areas, rock climbing and surfing/boogie boarding. Royal Caribbean frequently releases "third and fourth passenger" or "kids sail free" deals, allowing parents to bring their kids for free or for a lower cost.
---
4. Holland America Line
Although HAL is known for drawing a somewhat older crowd, its shorter cruises and holiday sailings are excellent options for multigenerational family travel groups. All ships in the fleet offer dedicated kids clubs and family-friendly theatre shows that will appeal to younger cruisers. The line also occasionally runs "third and fourth passenger" sales, with free or discounted fares. (These sales apply to any passenger, regardless of age, but they can be used for children sharing a cabin with their parents.)
---
5. Pandaw River Cruises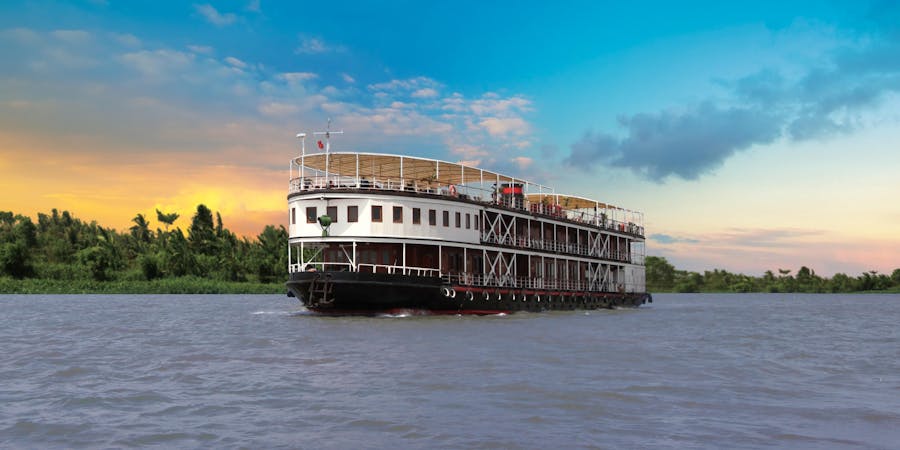 Pandaw River Cruises offers small ship cruising in Asian destinations, including sailings in remote areas such as the Upper Chindwin in Myanmar (Burma) and the Upper Mekong in Laos. Pandaw doesn't have all the flashy bells and whistles found on much larger ocean ships. However, these river cruises are a solid option for well-behaved older kids and teens who enjoy cultural immersion and a relaxed onboard vibe. River itineraries often include more than one port call per day, complete with in-depth (and complimentary) shore excursions that dive deep into the local customs and cuisine. Even better, up to two children aged five to 18 travel for free in their own cabin when sailing with two adults.
6. Crystal Cruises
All-inclusive luxury line Crystal provides the highest end of everything, from service and dining to accommodations. Alcohol and soft drinks, some specialty dining, Wi-Fi and gratuities are included in cruise fares, which can be expensive. However, children younger than 12 always sail at a 50 percent discount when they share a cabin with two paying adults; the occasional "kids sail free" promotions allow cruisers younger than 18 to book a third berth in a cabin free of charge. Although you won't find as many children onboard as you would on more mainstream ships, Crystal's two ocean cruise ships offer programs for kids and teens in dedicated facilities that include video and arcade games. It's one of the most kid-friendly of all the luxury lines.
---
7. Paul Gauguin Cruises
Luxury line Paul Gauguin, whose ships sail exotic itineraries in French Polynesia, always allows third passengers ages 17 and under to sail free when sharing a cabin with two paying cruisers. (The offer is for the cruise only, and airfare and taxes are additional.) The ships in this fleet don't have dedicated facilities for kids, but they do offer the complimentary Moana Explorer program on summer and December holiday sailings. Children ages 7 to 17 can participate in nature-themed activities, such as naturalist-led island excursions, star-gazing through an onboard telescope and learning about marine life through ocean-themed games. If your child is mature, well-behaved, curious about the environment and a fan of water sports, there's no reason why a cruise with this line wouldn't be enjoyable.