P&O Cruises has long dominated the U.K. cruise market, with a history dating back more than 180 years. In fact, for a long time it was the only line for U.K. cruisers wishing to sail out of the U.K. Then along came U.S. lines, among them Royal Caribbean, which currently has two ships based out of Southampton seasonally -- Independence of the Seas and Explorer of the Seas. For 2020, Royal will operate only one ship out of Southampton, the newer Anthem of the Seas, going head-to-head against a much bigger choice from P&O, including the line's smart new flagship, Iona.
Where P&O cruises offers a more traditional cruise experience, with an emphasis on food, wine and low-key entertainment, Royal Caribbean offers what could be described as a more typical modern cruise experience with waterslides, simulated surfing, rock climbing walls and big West End-style shows.
Of course, you can always hop on a plane to the Mediterranean or Caribbean and jump on a Royal Caribbean or P&O Cruises ship there, but what we'd like to do is establish how P&O Cruises versus Royal Caribbean's U.K.-based ships stack up for passengers departing from these shores.
Who are you going to meet?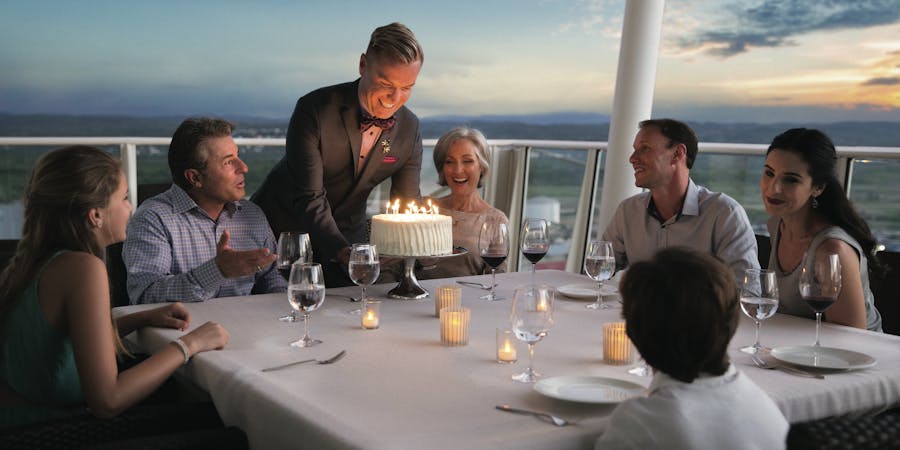 Royal Caribbean International
Families, plus couples and singles in their 30s to 50s, mainly Brits but with some international cruisers.
P&O Cruises
The adults-only ships attract a 55+ crowd, while the family ships attract a 55+ clientele in the off season and families during the holidays. The audience is almost exclusively British.
---
Where are they based, and where do they go?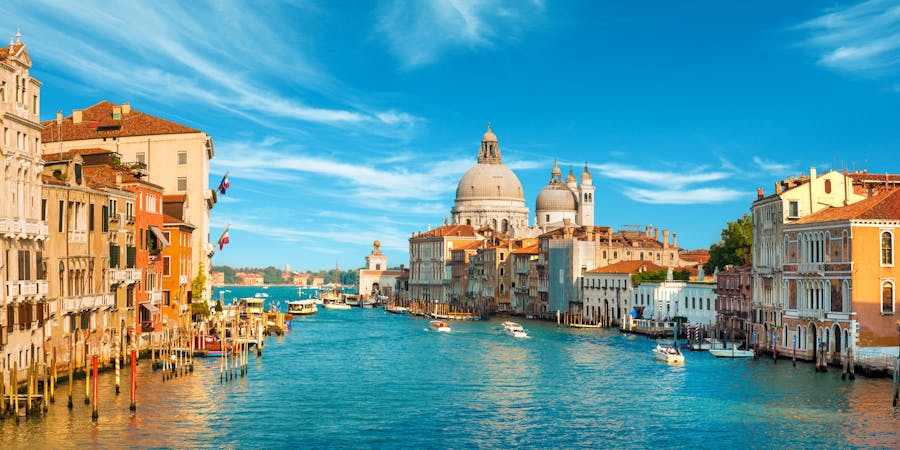 Royal Caribbean International
Royal Caribbean has two ships based in Southampton -- 

Independence of the Seas

 and Explorer of the Seas (2019) and just Anthem of the Seas for 2020.
Both offer cruises to the Mediterranean and the Canary Islands.
Explorer also sails to Norway and the Baltic.
Anthem will sail to the Mediterranean, a section of the Baltic and the Canaries, as well as northern Europe.
P&O Cruises
From March to November, ships sail from Southampton to the Mediterranean, Norway, the Baltic and the Canary Islands.
Just one ship, Oceana, offers fly-cruises around the Mediterranean from Valletta.
Iona's maiden season will include the Norwegian fjords, Spain and Portugal.
---
What's the accommodation like?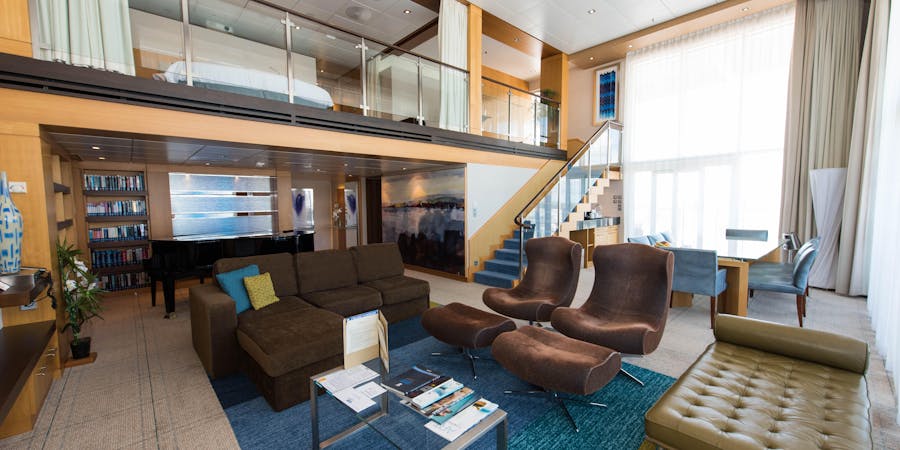 Royal Caribbean International
The ships are family focused and include many family-size cabins with extra rooms and bathtubs.
On Independence, family options include 300-square-foot inside cabins with room for up to six; family oceanview cabins and Royal Family Suites which hold up to eight.
Anthem comes with some of the finest accommodation in the Royal Caribbean fleet, two-storey Loft Suites, as well as cleverly designed Family Junior Suites that sleep five. Of the 2,090 cabins in total, 1,570 have private balconies. All 373 insides have 'virtual balconies' and there are 28 studio cabins for singles.
P&O Cruises
Has a range of interconnecting and family cabins onboard the family ships (Britannia, Ventura, Azura,  Oceana and from 2020, Iona).
Britannia also includes the line's first solo cabins with balconies.
Iona will feature 95 conservatory mini-suites, with floor to ceiling glass that opens to create a balcony separated from the cabin by a sliding glass door.
At 184 square feet, cabin sizes are on par with other modern mainstream cruise lines but P&O's ships vary greatly in age, from the somewhat elderly Oceana to the brand-new Iona, so there's a great deal of variety in the look and feel of the cabins.
---
What are the dining options?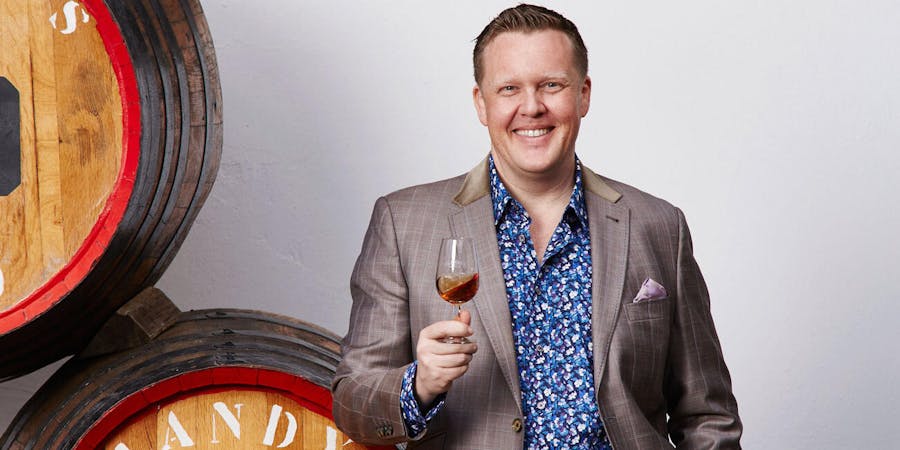 Royal Caribbean International
On Explorer of the Seas: wide array of for-fee specialty restaurants, including popular favourites, Izumi, for sushi and Hibachi; Chops Grille for steaks and Italian-themed Giovanni's Table.
On Independence of the Seas: For-fee options include Portofino's for upscale dining; Izumi; Playmakers sports bar; Giovanni's Table; Johnny Rocket's;  and Fish & Ships, a fish 'n' chip outlet, ironic, given that the ship is being pulled from the U.K. market in 2020.
Anthem of the Seas features an enormous variety of dining options, including favourites like Johnny Rocket's, Chops Grille and Izumi, as well as the spectacular Wonderland, for high class molecular cuisine.
P&O Cruises
P&O makes much of its 'Food Heroes'. Partnerships. These include celebrity chef Marco Pierre White, who designs the gala night menus, and master patissier Eric 'Cake Boy' Lanlard. Both chefs offer cookery classes in the high tech Cookery Clubs on Britannia and Iona.
Wine expert 'Jolly' Olly Smith masterminds the Glass House on Aurora, Azura, Britannia, Ventura and Iona and accompanies selected cruises.
New 'Food Heroes' with a presence on Iona include renowned Spanish chef José Pizarro and Norwegian chefs Marie Forsberg and Kjartan Skjelde.
---
What's each line's idea of fun?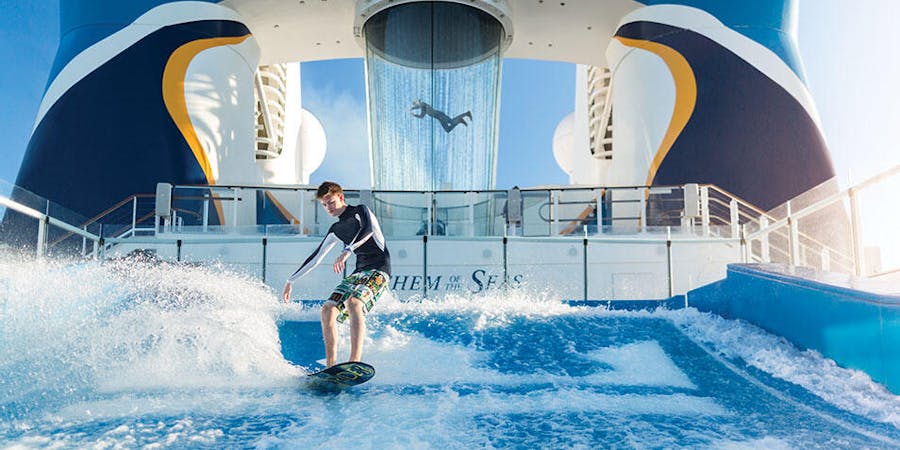 Royal Caribbean International
Royal Caribbean goes all out to create exciting daytime activities. Independence, for example, has three pools, an ice rink, Laser Tag, a Puzzle Break room, a Flow Rider surf simulator and, added in 2018, virtual reality bungee trampolining.
Anthem, meanwhile, includes bumper cars, a roller skating rink, a skydiving simulator and the North Star, a capsule on a long arm that takes up to 300 feet above the water.
P&O Cruises
P&O Cruises' ships offers traditional sports, such as short-tennis, mini-golf, basketball and cricket, often in a dedicated sports area (on the family ships); on the adults-only ships you'll find shuffleboard and quoits.
All ships have pools; on the family-friendly ones, expect water games like volleyball and deck fun including dancing with the exuberant entertainment team.
---
What's the nighttime entertainment like?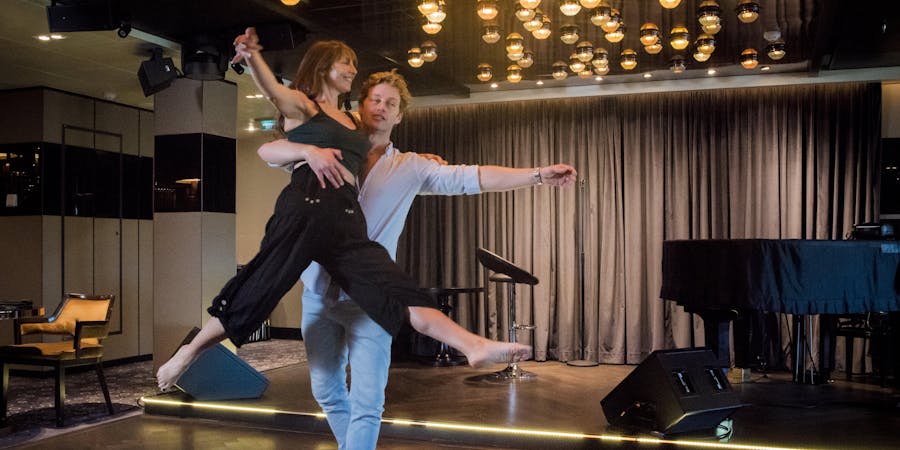 Royal Caribbean International
Independence of the Seas has ice skating shows, a nightly parade in the Royal Promenade and a big revue show in the main theatre
Explorer also offers classic revues and nightly parades, as well as Movies Under the Stars.
Anthem of the Seas is currently showing We Will Rock You in its theatre, among other shows, and has a beautiful aft lounge, TW070, where you can see musical and acrobatic performances with stunning effects on giant LED screens.
P&O Cruises
Features the in-house entertainment team Headliners, who perform a series of revues and shows
Strictly Come Dancing dancers and judges appear across the fleet on selected sailings.
Entertainment is geared to British tastes, especially offerings like stand-up and tribute bands.
Plenty of bars, including the Crow's Nest and the Glass House
On Britannia and Iona, the Limelight Club offers intimate dinner shows with cabaret performances by well-known singers.
---
How well are families catered for?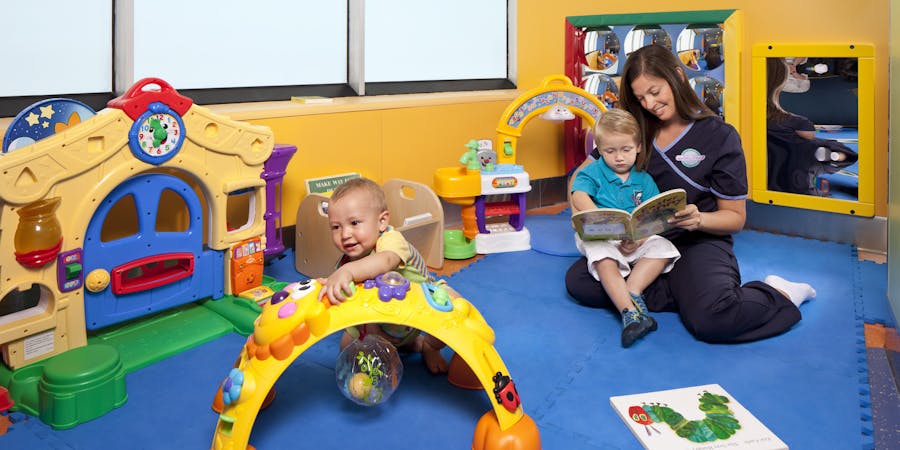 Royal Caribbean International
A dedicated kids area (Adventure Ocean), with rooms and age-appropriate activities and entertainment for all ages, much of it highly creative.
My Family Time Dining serves children their meals first; kids are then picked up by kids club staff so parents can have the rest of dinner to themselves.
Royal Babies and Tots Nursery on select ships; diapers, wipes, cream and baby food available through the Babies 2 Go program
Child-friendly options include water parks and indoor activity centers with bumper cars, roller skating and amusement arcades.
P&O Cruises
On the family-friendly ships, the range and quality of the children's facilities are superb, with excellent staff, outdoor space and a top-notch kids program.
All the family ships have kids pools and splash areas for toddlers.
Family ships have dedicated areas for family dining.
Also on the family ships, family-friendly movies are shown during the day.
---
How does pricing compare?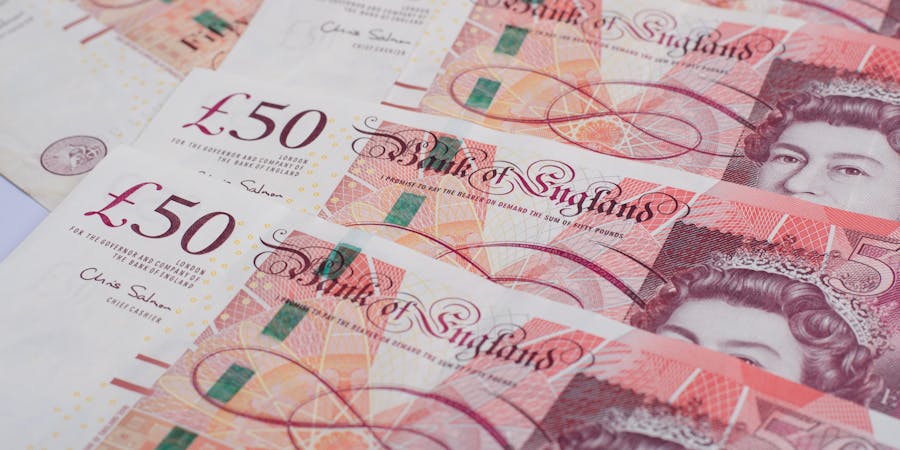 Royal Caribbean International
Tips add up at $14.50 per person, per day ($17.50 for suite passengers).
Prices are in US dollars and with the current exchange rate, costs can add up quickly.
Beware the additional line for an additional tip.
P&O Cruises
From summer 2019, P&O scrapped all gratuities.
Bar prices are the same as you'd pay on land or, in some cases, cheaper.
---
P&O Cruises vs Royal Caribbean: The Bottom Line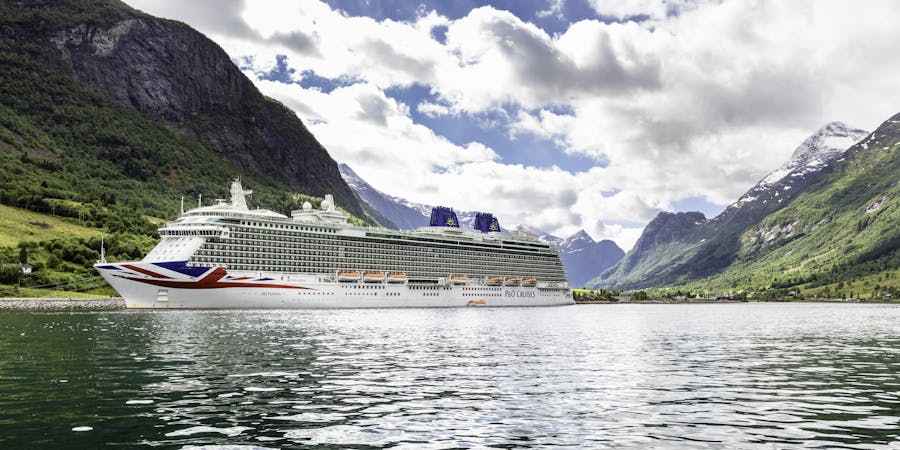 Both lines are completely different, and so appeal to different types of cruisers. If you're young, fit, like having a ton of things to do in the day and enjoy a wide choice of high-energy evening entertainment, then Royal Caribbean sounds like the line for you. If, however, you're a Strictly Come Dancing fan, enjoy good food and fine wine in pleasant surroundings, and you prefer your entertainment more low-key, and geared entirely to British tastes, then go for P&O Cruises.