Romance and cruising would seem to go hand in hand, particularly if you've spotted any of the cruise lines' ads showing photos of couples snuggling at the bow at sunset, or sipping orange juice on their private balconies in bathrobes, or even spending time alone on a deserted beach with their mega-ship anchored in the background.
Advertisements notwithstanding, cruising can be one of the most romantic holiday options, but choosing the right cruise line and, even more specifically, the right ship within the fleet, can be a challenge. You don't want that sunset blocked by crowds on deck, a dinner for two killed by whiny kids at the next table or a cosy evening ruined by cramped cabins.
For our top picks, we looked at criteria that we would deem universally romantic: ships that offer cabins with private balconies, great bathrooms and extra-special amenities; options for dining a deux; date-night venues; and almost-private open-deck spaces for relaxing by day and stargazing by night.
Here are our favourite ships for celebrating or rekindling romance with your sweetheart.
1. Princess Cruises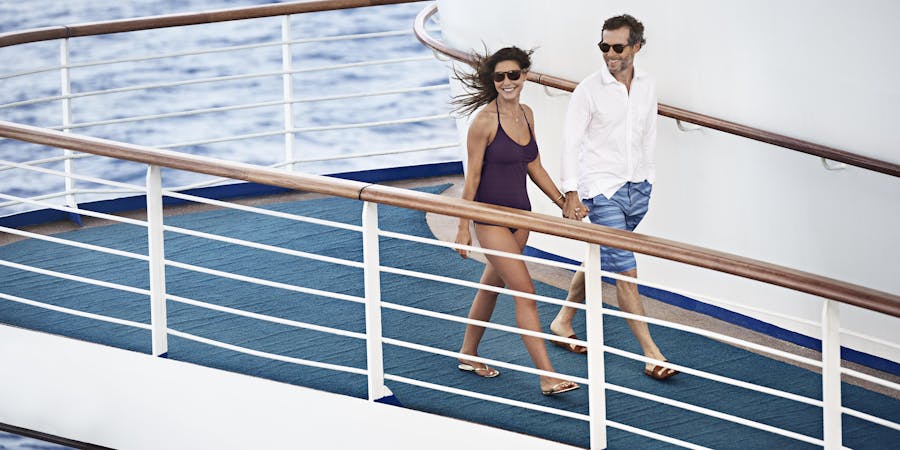 Best Ship for Australians: Majestic Princess
Why: The Love Boat was set on this cruise line, so it's fair to say Princess has always been focused on romance, and now Australians can get loved up on one of the youngest ships in the fleet, Majestic Princess.
Sweet Suites: Majestic Princess has a high percentage of suites and mini-suites. Suites feature separate sitting areas, large balconies, walk-in closets, a bath and shower with massage showerheads. Club Class Mini-Suites come with a VIP level of service, priority embarkation and disembarkation, complimentary wine in your room on arrival, fresh fruit and evening canapés, and better quality bed linen, bathrobes, toiletries, and chocolates on your pillow at night. There's also an exclusive dining area for Club Class, which has no queues, dedicated waitstaff, an expanded menu and table-side preparations. Plus, all cabins have the line's signature Princess Luxury Bed. With these dreamy pillow-top mattresses and fluffy duvets, you might be inspired to stay in bed a bit longer.
Onboard Romance: What could be more romantic than a night at Movies Under the Stars, reclining on padded loungers while snuggled under wool tartan blankets on the pool deck? During the day, we love The Hollywood Pool Club and Conservatory, an adults-only retreat with cabanas, pool, bar, gardens and games.
Dinner for Two: Open-seating (as well as traditional) dining is available. But the most romantic option is Princess' Ultimate Balcony Dining dinner experience. For an extra fee, cruisers are treated to a lobster dinner with Champagne and course-by-course service. (Or have a romantic breakfast in your cabin with the line's Balcony Breakfast option.) Only caveat: Your cabin must have a balcony. We also love the ships' specialty restaurants. Request a banquette at Crown Grill, a great steak and seafood restaurant with excellent desserts, or indulge in a menu designed by Michelin-starred chefs at Harmony (Chinese) or La Mer (French). If chocolate is your aphrodisiac of choice, be sure to try the onboard cocktails and desserts created by master chocolatier Norman Love.
Downside: If you'd prefer to travel kid-free, it may be better to avoid family-friendly Princess Cruises.
---
2. Paul Gauguin Cruises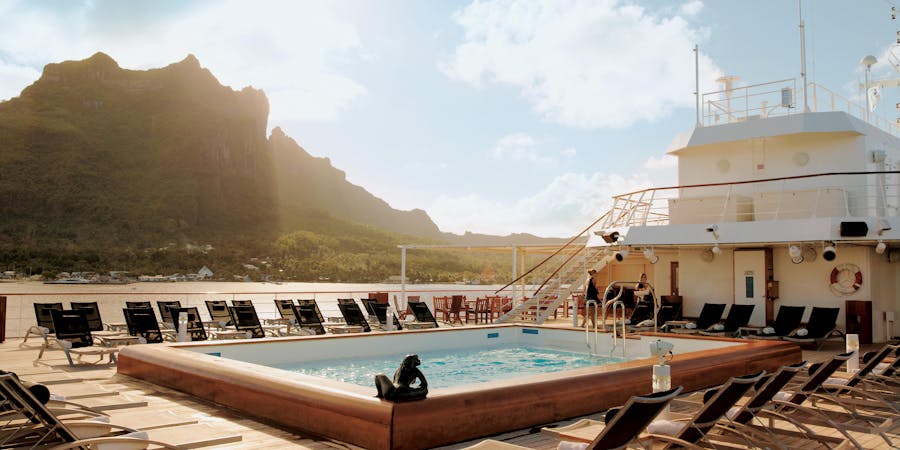 Best Ship: Paul Gauguin
Why: Designed, built and decorated to sail year-round in the South Pacific, the intimate 332-passenger Paul Gauguin offers an air of tropical festivity. Dining is restaurant-style, the crew are superb and the ship is highly inclusive (cocktails and most other drinks are included in cruise fares). But it's the ship's remote and lush island destinations that really turn up the notch on the romantic nature of the trip.
Sweet Suites: You know this is a ship intended for couples when most cabins come with a queen-sized bed and only a limited number can be split apart into twins. Consistent with the decor around the ship, cabins are tropically inspired. When you embark, you might find that your cabin attendant has showered the bathroom sink with red rose petals. Definitely book ahead so you can nab a balcony cabin. It's not a trip to the South Pacific if you're not out on your balcony, savouring a coffee as Bora Bora pulls into view. And just when life onboard couldn't be any better, suites and category A and B veranda staterooms feature butler service.
Onboard Romance: Dance cheek to cheek with your honey to the tunes of a chanteuse in La Palette Lounge, or gaze at the sea or stars from the lounge's top-of-ship vantage point.
Dinner for Two: For such a small ship, there is a great choice of restaurants. L'Etoile, which offers French cuisine accented with Polynesian touches, serves as the main venue. Couples will appreciate plentiful tables for two and an attentive wait staff that will keep your glasses filled with house wines and nonalcoholic beverages. Two casual venues offer indoor and alfresco dining, with reservations-only dinners. And there's always room service for meals in bed or on your balcony.
Downside: There are no direct flights from Australia to Tahiti, not even from Sydney, so be prepared to change planes in Auckland before you get to your luxurious destination.
---
3. Windstar Cruises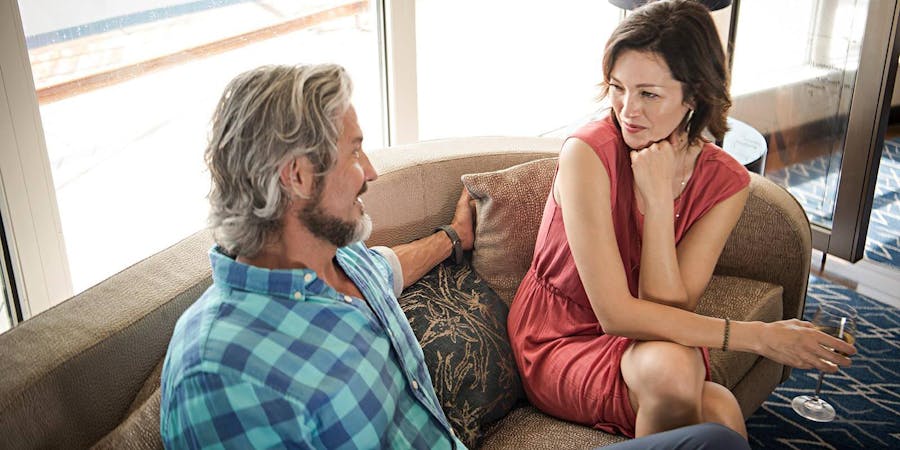 Best Ship: Wind Spirit
Why: Wind Spirit also sails in Tahiti, offering weekly departures from Papeete, so you can go any week of the year. As a four-masted sailboat and a cruise ship, Wind Spirit features a hybrid blend of traditions (such as the crew show, organised shore excursions and multiple eateries) and utterly romantic vistas. Carrying just 148 passengers, the ship's onboard ambience is relaxed (no set seatings at dinner) and the waiters and bar staff are completely charming. Topping it all off, literally, the sight and sound of the sails billowing in the wind is intoxicating. When departing a port, classical music is played to create a theatrical atmosphere as the sails unfurl.
Sweet Suites: What Windstar's cabins lack in size and variety, they make up in style. The staterooms offer decadently soft bedding, L'Occitane bath products and flat-screen TVs with DVD players. Most suites are simply two standard cabins opened up and joined together, but having two bathrooms is generally a boon for marital bliss. For a special occasion splurge, book one of two Bridge Suites, which feature separate living rooms and bedrooms, a whirlpool tub and a massaging shower.
Onboard Romance: The deck around the pool is the perfect spot for sunset drinks, or head to the ship's onboard water sports marina where you can take out a kayak or stand-up paddleboard for a fun escapade when the ship is stopped in calm conditions.
Dinner for Two: For casual daytime dining, the glass-walled Veranda offers seating outdoors as well as indoors. It's adjacent to the grill and features both buffet fare and choices from a menu. At night, enjoy a romantic candlelit dinner by the pool at Candles, or dine in the main restaurant, AmphorA.
Downside: Shore excursions book out quickly and some are subject to cancellation due to bad weather.
---
4. Seabourn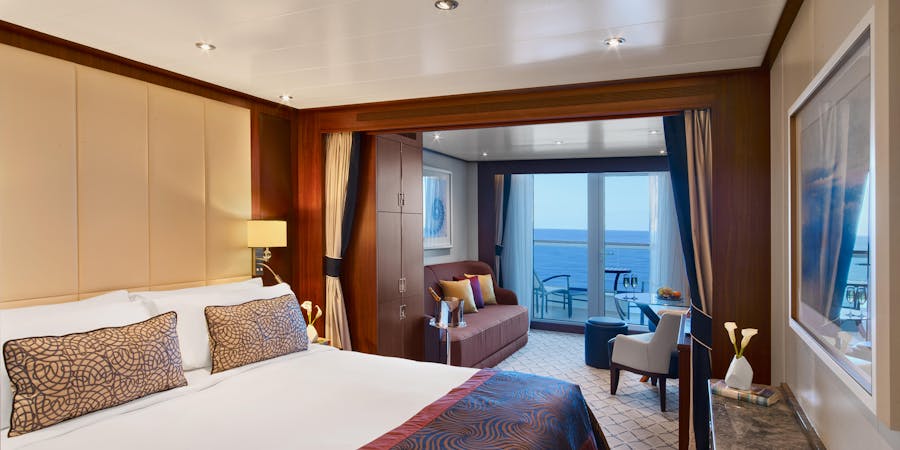 Best Ship: Seabourn Encore
Why: Seabourn's 600-passenger Seabourn Encore launched in December 2016 and came straight to Australia, and it's still sailing out of local ports for the ultimate convenient luxury cruise. Seabourn Ovation is newer, having launched in 2018, and there are expedition ships on the way in 2021-2022. Seabourn is known for its lovely suites, all-inclusive fares, elegant decor, and a high ratio of space per passenger. Seabourn's friendly service is always attentive but never stuffy, which matches the relaxed vibe onboard.
Sweet Suites: All rooms have balconies, walk-in closets, a seating area, in-suite bar set-up, and marble bathrooms with separate tub and shower, double sinks and Molton Brown products. A personal "suite stewardess" welcomes you with Champagne and canapés, and she can draw you a bath, replenish your bar with your requested drinks and assist with special requests. The perks and comfort increase with every higher category -- Signature, Penthouse and Owner's suites -- if your dollar can stretch that far. The Owner's Suite features separate living and sleeping areas, a dining table for four and an additional half bathroom for guests if you fancy inviting another couple for dinner. The Signature Suite has dinner seating for six, a pantry and a spa bath. For ultimate daytime relaxing, the Wintergarden Suite has a glass-enclosed solarium with a tub and day bed.
Onboard Romance: The Retreat is Seabourn's new quiet space, under a flower-shaped canopy that protects from the sun and wind. Settle into one of the 15 private cabanas featuring a large HD flat screen television and a fridge full of drinks. Amenities include fresh fruit baskets, sun lotions, Evian mist spray, plush towels and bathrobes, with a Retreat Concierge at your service and a a Spa Cabana available for massages. Enjoy the central whirlpool, sunbathe on a lounge, have a free cocktail at the bar or order some food. At night, go see the new show, "An Evening with Tim Rice," which features performances of the Broadway lyricist's popular songs, sung by the ships' singers.
Dinner for Two: Seabourn has partnered with chef Thomas Keller, known for his Michelin-starred restaurants The French Laundry, Per Se and Bouchon. Keller's new signature restaurant on Encore, called The Grill, serves 94 passengers and has an outdoor dining option. The main restaurant is equally glamorous in decor and top-notch in cuisine.
Downside: Some die-hard Seabourn fans prefer the line's smaller vessels, fearing that the newer, bigger versions have lost that yacht-like feel.
---
5. SeaDream Yacht Club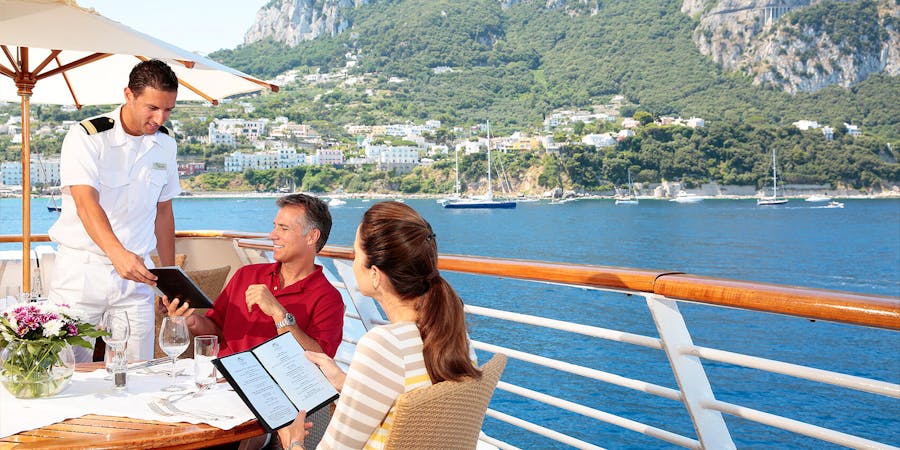 Best Ships: SeaDream I and SeaDream II
Why: These nearly identical 112-passenger yachts win top romantic honours for sophisticated couples who want luxury (phenomenal dining and great service) in a casual ambiance. The ships are gorgeously restored; dining is all as-you-wish; small but cosy cabins are outfitted with everything you could possibly need; and service is outstanding, personable and subtle. Fares are all-inclusive, too, which means tips and most drinks are included in your fare. Choose a warm-weather itinerary if you want to spend time playing with the ship's water toys offered from its onboard marina.
Sweet Suites: There are only four types of stateroom. The most romantic is the Owner's Suite (with a fabulous windowed bathroom); the Admiral Suite has similar amenities but is somewhat smaller. The Commodore Suites are basically two standard cabins put together -- we actually preferred our standard accommodations. The 18-square-metre standard cabins feature separate seating areas and bedrooms, with a small but exquisitely outfitted bathroom (huge shower-for-two with three shower heads). Add to that fine linens and great mattresses on the bed, high-tech flat-screen televisions, DVD and CD players, stocked mini-bars and plenty of storage space.
Onboard Romance: Our favourite place for sunset-timed port departures was on one of the Balinese beds on the top-most deck. Tucked around the smokestack, they are built just a bit above the deck railing, which gives you a sense of floating above the water. (You can even reserve one for a night sleeping under the stars.) We also loved the Top of the Yacht bar for after-dinner drinks to a soundtrack of live music.
Dinner for Two: The Main Dining Salon (indoors) feels like a restaurant at an elegant, small boutique hotel. But our favourite spot was the Topside Restaurant; it's an open-sided outdoor eatery (covered, though, so shaded) and there are a handful of wonderful and private nooks.
Downside: There are no cabins with balconies, but the open decks are so expansive and there are so many lovely nooks that you'll never miss them.
---
6. Celebrity Cruises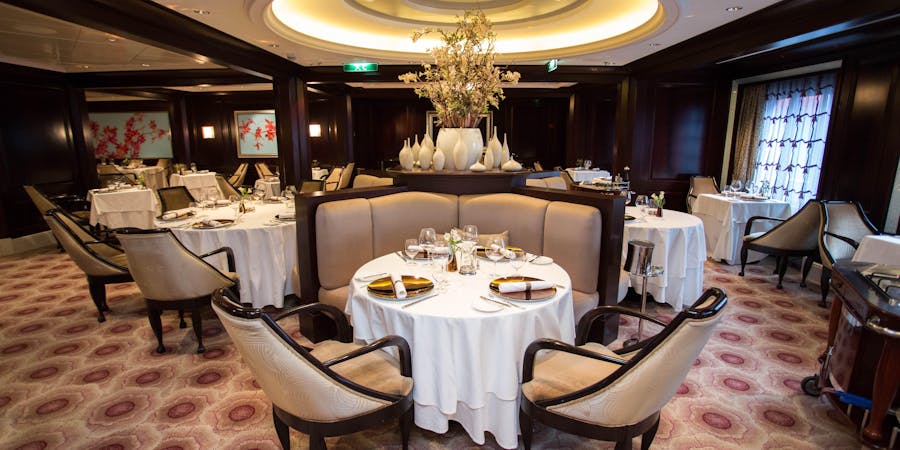 Best Ship: Celebrity Solstice (Sydney-based) and Eclipse (Melbourne-based from December 2020)
Why: Celebrity' sophisticated ships cater to couples on adult getaways, rather than families on holiday. Plus, there are plenty of onboard spaces tailor-made for parties of two -- from wine bars to romantic restaurants, double pool loungers and cabanas, and a top-deck lawn that is perfect for picnicking. Itineraries range from Australia, New Zealand and the South Pacific to further afield in Europe and Alaska.
Sweet Suites: For a true splurge, suites range in size from 30 to 150 square metres, with amenities such as separate living room/dining room areas, baby grand pianos, hot tubs and large balconies. For couples who enjoy the spa experience, Celebrity's AquaClass cabins and suites create an oasis of calm on the bustling ships with massaging showerheads, complimentary spa-oriented bath and body products and upgraded bed linens. Plus, couples can seek further R&R with complimentary use of the AquaSpa Relaxation Room and Persian Garden and exclusive specialty restaurant, Blu. There's also good news for pairs looking for a private retreat without breaking the bank -- 85 percent of all cabins feature private balconies.
Onboard Romance: It's easy to rekindle the romance with a picnic for two in the Lawn Club, a real grass lawn on the ships' top decks. The nearby Sunset Bar is great for views. Or hide away in a corner of the Deck 4 wine bar or martini bar. The pool deck and adults-only Solarium also have cosy double sunbeds and hammocks for snuggling in the sun.
Dinner for Two: With so many top-notch specialty restaurants onboard, any table for two will do for a romantic night out. Our pick for couples is Murano, an upscale restaurant offering both tasting and a la carte menus. Treat yourself to luxe dishes like caviar, escargots or foie gras. For dinner with a view, dine early at the back-of-the-ship Tuscan Grille, an Italian steakhouse with a wine country feel. For a bit of fun, Le Petit Chef at Qsine is an animated experience, literally, with a cartoon on your plate before each course -- it's coming soon to Solstice and already on Eclipse.
Downside: American dollars are used onboard, so dates don't come cheap, but it might work out cheaper than an all-inclusive cruise line with higher base fares.
---
7. Regent Seven Seas Cruises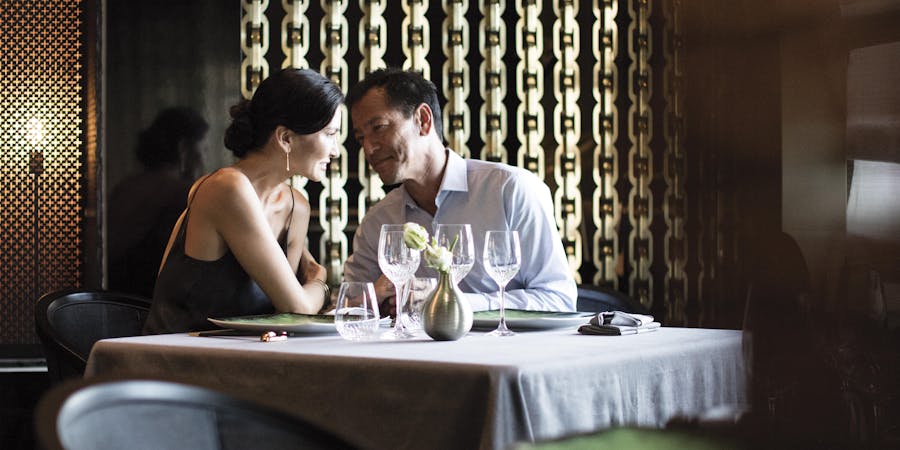 Best Ship: Seven Seas Explorer
Why: Regent claims it made the "Most Luxurious Ship Ever Built", an all-suite, all-balcony vessel that features the most-inclusive cruise fares of all the major luxury lines. You don't have to worry about lover's quarrels over the price of shore excursions, which pre-cruise hotel to book or how many drinks to order -- it's all covered by your cruise fare.
Sweet Suites: Take your pick! The smallest cabin on Explorer is a 20-square-metre suite with an 8-square-metre balcony and marble bathroom. The largest is a whopping 270 square metres and features a luxurious bed with topped with a US$90,000 horse-hair mattress and US$60,000 bed linens; an in-cabin spa complete with private sauna, heated ceramic lounge chairs and unlimited spa treatments; and a 90-square-metre balcony -- with a hot tub, dining table and assortment of loungers -- that wraps around the entire front of the ship. If you want to spoil yourself but can't quite afford the ship's top suite, know that all Penthouse Suites and higher categories come with butler service, upgraded toiletries and free use of iPads and iPods onboard.
Onboard Romance: Head to the gorgeous spa and gym area to get a little sweaty together (personal training for two?) and then relax in the back-of-ship infinity pool or heated ceramic loungers. Or visit the Observation Lounge for 180-degree views by day and cocktails and music by night. If you like learning together, sign up for a cooking class at the Culinary Arts Kitchen.
Dinner for Two: It's easy to get a table for two on these ships, even in Compass Rose, the main dining room. And the food is superb, with no drop in quality from the specialty venues to the main dining room. For date night, try the pan-Asian Pacific Rim, modern French Chartreuse or the Prime 7 steakhouse -- you'll need to make reservations for these popular venues but there's no fee.
Downside: Regent has some of the highest cruise fares in the industry. To save on airfares, wait for Seven Seas Explorer to be based locally in summer 2020-21. The ship will offer nine itineraries across Australia, New Zealand, Asia and the South Pacific, many departing or disembarking in Sydney.
---
8. Silversea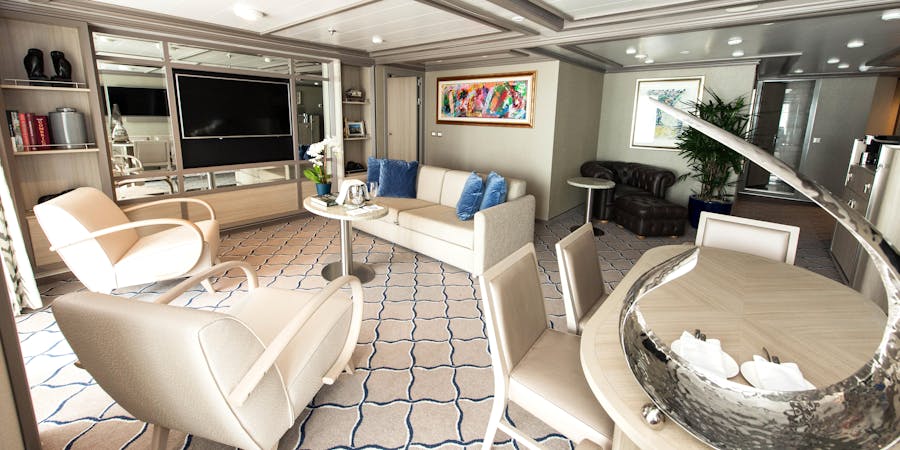 Best Ship: Silver Muse
Why: If you want to sample the high life, where days are spent lounging in the sun with a drink in hand and the nights are spent wining and dining, Silver Muse beckons. Based in Australia next summer, but also sailing around the world, the 596-passenger ship has eight restaurants and just as many bars. Drinks are included in the fare, as is food, with one exception. Silversea's Italian heritage adds a romantic European flavour to the onboard style.
Sweet Suites: All cabins are suites, with separate sitting areas and spacious balconies. Queen- or king-sized beds have Matermoll mattresses, Pratesi linens, down duvets and a choice of pillows. There's a free mini-bar stocked with your favourites -- just tell your butler and he'll adjust it to your liking), and bathrobes, slippers, binoculars, lint brushes and umbrellas for use during your cruise. Ladies (or fashion-savvy men) will love the walk-in wardrobe and marble bathroom with full-sized bathtub, separate shower with rainfall showerheads as well as a handheld sprayer for when you don't want to wet your hair.
Onboard Romance: Most passengers are relaxing beside or in the pool. At night, get social in the The Cove, enjoy live jazz in the Silver Note Bar or settle into the ship's huge living room, Dolce Vita, with leather and velvet couches, marble-covered pillars, a baby grand piano and waiter service.
Dinner for Two: There are so many outdoor options for dining under the stars. Depending on your mood, choose from the buzzing La Terrazza (Italian, located at the stern with a view of the ship's wake), Hot Rocks (quieter, poolside, but you cook your own meat or fish at your table) or the casual pizzeria and gelato bar overlooking the pool. For a treat, La Dame (US$60 per person) is Silver Muse's exclusive Relais & Chateaux venue, an upscale classic French restaurant with ingredients sourced from France.
Downside: There's less bling or wow factor than one might expect on a luxury cruise ship.
---
9. Azamara Club Cruises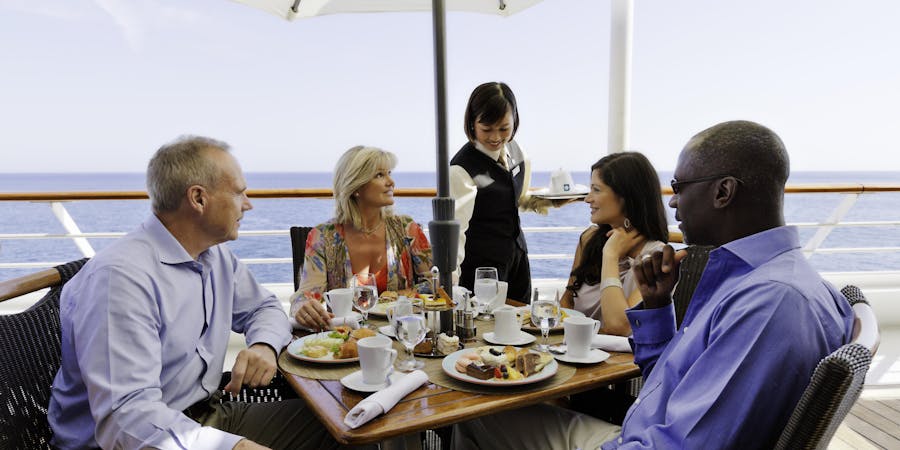 Best Ship: Azamara Pursuit, Azamara Journey and Azamara Quest
Why: Azamara offers intimate ships and a destination focus, so you can bond with your loved one over new experiences and incredible adventures ashore. The line will constantly hand you opportunities for memorable date nights with its Nights and Cool Places after-dinner excursions and a complimentary, once-a-cruise AzAmazing Evening shoreside event. The onboard atmosphere is also geared to adults.
Sweet Suites: Standard cabins are pretty cosy, but some suites offer more luxury and elbow room. The most sought-after are Ocean and World Owner's Suites, which command the fore and aft of the cabin decks. Think king-sized beds, marble baths and enormous private balconies. If the two of you love the spa life, book a Spa Suite, located near the ship's spa facilities; the suite comes with in-room spa music, a glass-enclosed bath tub and separate rain shower, a free evening excursion and a spa credit. Couples massage, anyone?
Onboard Romance: Take your partner for a whirl with ballroom dancing in the Cabaret Lounge, or look for that green flash at the Sunset Bar, cocktail in hand. For the ultimate in romance, though, book the Nights in Private Places package. For one night, you'll get the aft spa deck all to yourself. A private butler will serve a candlelit dinner, you can float in the thalassotherapy pool while gazing at the stars, and then spend the night snuggled up on the canopied daybed, done up in fine linens. Just be sure to slip your robe back on when the butler comes to serve breakfast in the morning.
Dinner for Two: Tables for two are not hard to come by in Azamara's main, open-seating restaurant, but for a more intimate repast, book into one of the specialty restaurants, the Prime C steakhouse or the Italian Aqualina. Special event meals not to miss include a jazz brunch, Officers' BBQ with suckling pig and barbecue ribs and the White Night dinner served on deck.
Downside: If you like onboard nightlife, Azamara's options are limited. The casino is small and entertainment is hit and miss (except for the outdoor White Party, which gets everyone dancing on deck).
---
10. Viking Ocean Cruises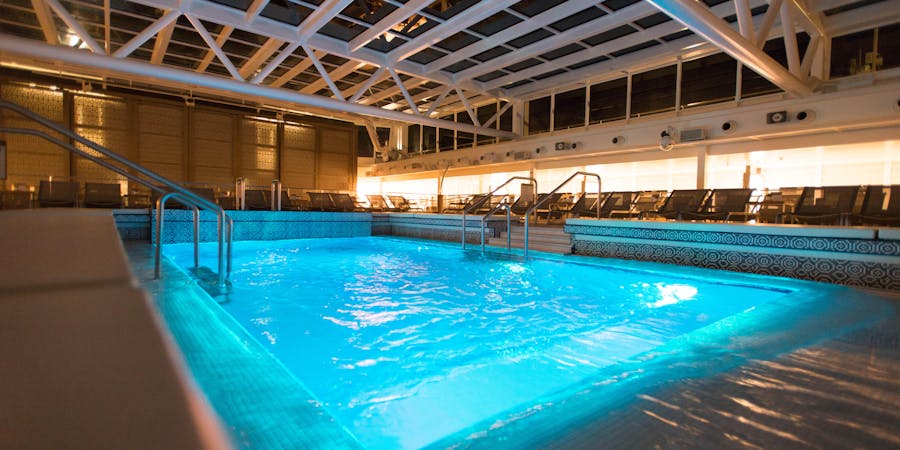 Best Ship: Viking Orion, Viking Star, Viking Sea, Viking Sky and Viking Sun
Why: The stunning, adults-only Viking Orion is based in Australia and New Zealand every summer until at least 2021. With an infinity pool, beautiful sun decks, a planetarium for sungazing and a huge Nordic-inspired spa, Viking is ideal for couples who love to relax. The line's destination focus includes jam-packed itineraries, late nights and overnights in port and (some) included shore excursions. Well-appointed cabins, included Wi-Fi and wine with meals, multiple dining venues and a no-kids-under-16 policy seal the deal.
Sweet Suites: You can't go wrong when every cabin has a balcony, thoughtful touches like plentiful outlets and quiet-closing drawers, and bathrooms with heated floors. Upgrade to one of 14 Explorer Suites for sprawling verandas, separate living rooms and bedrooms and soaking tubs in the bathrooms. If nothing but the best will suit your sweetheart, book the one Owner's Suite with its private sauna, dining area and wet bar, and comfortable living room with stereo system.
Onboard Romance: During the day, relax in the light and airy, glass-enclosed Wintergarden Conservatory and take your honey to tea for finger sandwiches and scones in the late afternoon. Or lounge by the all-weather main pool, with retractable roof, or aft infinity pool. A cool drink is never far away. At night, head to Torshavn, to dance, enjoy a cabaret show or sip Armagnac in a dark corner.
Dinner for Two: The mouth-watering food at Manfredi's will start your date night off right. The Italian venue is complimentary and offers an expansive Italian menu. Don't miss the daily specials and definitely save room for dessert (as difficult as that might be). If your style is more casual, check out the sushi bar in the World Cafe buffet or the cured meats and bacon-and-pea soup served faux-fireside at Mamsen's.
Downside: All of those free (and paid-for) shore excursions can you leave you exhausted, with little energy for romance at day's end. Be sure to factor in some relaxation time, but expect limited entertainment onboard (day and night) and no casino.