A message from Cruise Critic: During this unprecedented time throughout the world and across the cruise industry, it is important to note that article information might be impacted by cruise line hiatuses and port closures due to COVID-19. For the latest information, please visit our regularly updated article on what cruisers need to know about coronavirus.
Maybe you've dreamed of taking part in Rio de Janeiro's annual Carnival -- or maybe you're a sports fan and want to attend the Australian Open in person. No matter which events and festivals you hope to attend later in 2020 and 2021, you might be surprised to find out you can cruise there.
Cruising to major world events -- such as elite sporting competitions, cultural festivals and street parties -- marks a popular segment of theme cruising. No wonder, considering that cruising to marquee events can often save you money over putting together a land-based visit on your own. For example, there's potentially huge savings in cruising to the Monaco Grand Prix, since the markup on a cruise fare is likely far less than that of a hotel stay combined with restaurant meals during race weekend in Monte Carlo (not to mention inflated rates on flights).
Adding to the value -- and convenience -- of these types of trips, event tickets are often included in the cruise fares or sold by the excursion team. Packages might include ground transfers, as well as cool extras tied to the event theme, such as cocktail parties, events-related experts onboard or meet-and-greets with pro athletes and other luminaries.
Here's a look at some of the big-name events that you can attend via a cruise.
| Event | Month |
| --- | --- |
| | January 2021 |
| | February 2021 |
| | February 2021 |
| | 2020 event cancelled; May 2021 |
| | September 2020; May 2021 |
| | 2020 event cancelled; July 2021 |
| | 2020 event cancelled; August 2021 |
| | August 2020 |
| | 2020 event cancelled; September–October 2021 |
| | November 2020 and 2021 |
| | December 2020 and 2021 |
Australian Open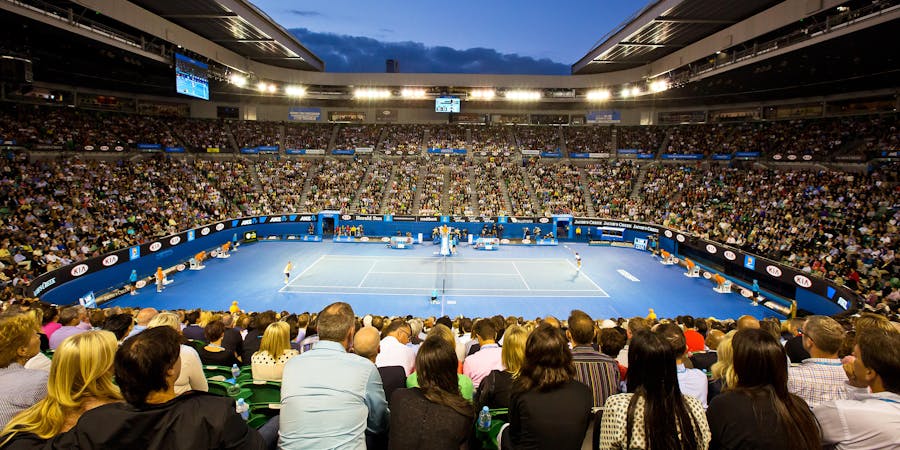 The Event
Tennis-lovers have made the pilgrimage to
Melbourne
for the Australian Open since its inception in 1905. It launches the "Grand Slam" season, with the French Open, Wimbledon and the U.S. Open following later in the year. The Australian Open is incredibly popular and tickets can be hard to come by for men's, women's, mixed doubles and junior championship matches.
2021 Cruises
P&O Cruises Australia makes it easy to attend a match at the Australian Open, via a partnership with Tennis Australia. Book Pacific Explorer's "Australian Open Tennis" seven-night voyage sailing round trip from Brisbane and departing January 16, 2021. Or, try a five-night sailing from Sydney on Pacific Adventure. Fares include two days of general admission tickets to Australia Open venue Melbourne Park, including Ground Pass tickets and transfers to and from the grounds.
Plus, onboard, passengers can hobnob and participate in meet-and-greets with several to-be-announced tennis personalities. Look out, too, for tennis-themed entertainment onboard, including photo ops with Australian Open trophies and live showings of the Australian Open matches.
Note that a handful of other lines call on Melbourne while the Open is underway, typically as part of longer Australian/New Zealand voyages; however, on these sailings, cruisers should count on arranging tickets and transport independently, as the line won't necessarily offer proper excursions to the event.
For instance, Seabourn Encore is scheduled to visit Melbourne during the tournament on two of its 16-night New Zealand and Australia voyages. The first sails from Auckland to Sydney, embarking on January 6, with a stop in Melbourne on January 18; the second cruises from Sydney to Auckland, departing on January 22, with a stop in Melbourne on January 25. Holland America, Oceania Cruises and Viking Ocean Cruises also have Australia cruises scheduled at this time, with stops in Melbourne during the tournament.
---
Carnival
The Event
During
Rio de Janeiro's
Carnival, one of the most famous parties in the world, millions take to Rio's streets for five days, wearing colorful costumes and dancing away their doldrums in a collective celebration of life. The festival kicks off February 12, 2021, before a more solemn Lenten period that leads up to Easter.
2021 Cruises
MSC Cruises runs a nine-night South American itinerary on MSC Orchestra. This Buenos Aires roundtrip voyage departs February 11, 2021, and includes two days of Carnival revelry in Rio. Other ports of call include Ilhabela and Ilha Grande in Brazil, and Punta del Este in Uruguay.
Azamara also brings passengers to Rio in time for Carnival aboard its 13-night "Carnivale in Rio Voyage" on Azamara Quest. The ship sails round trip from Buenos Aires on February 7, 2021, and includes three days in Rio for the festivities, as well as calls in Sao Paulo, Paraty, Punta del Este and Montevideo.
---
Mardi Gras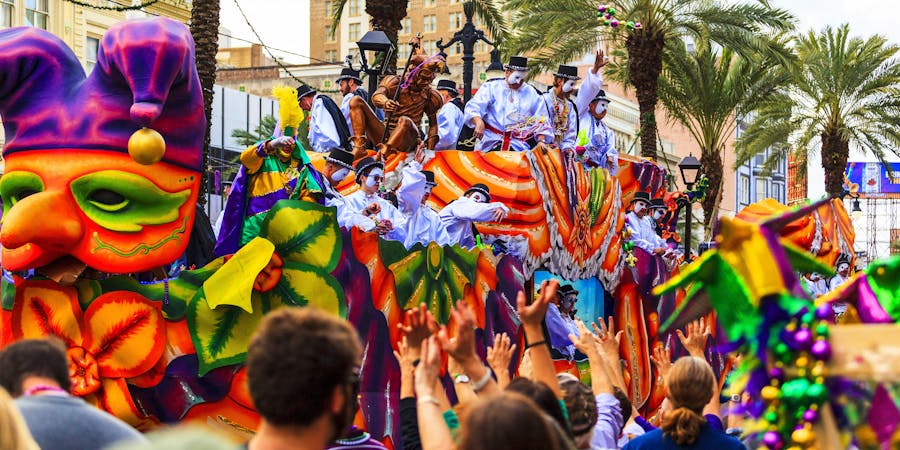 The Event
Another way to celebrate the pre-Lent season of excess is to attend Mardi Gras in
New Orleans
(February 16, 2021). This extravaganza centers on parades, where you can collect beads, toys and trinkets thrown from festive floats. Although nighttime reveling in the French Quarter can be raucous, G-rated parades, family picnics and elegant balls are the true traditions of the citywide celebration.
2021 Cruise
Celebrity is running a 12-night Mardi Gras-inclusive cruise in 2021 aboard Celebrity Equinox that runs round trip from Fort Lauderdale. Stops include Florida (at Key West), Grand Cayman and Mexico (at Costa Maya and Cozumel); as well as three days in New Orleans (February 14 through 16) that are primed for Mardi Gras festivities (and Valentine's Day, too, for that matter).
---
Monaco Grand Prix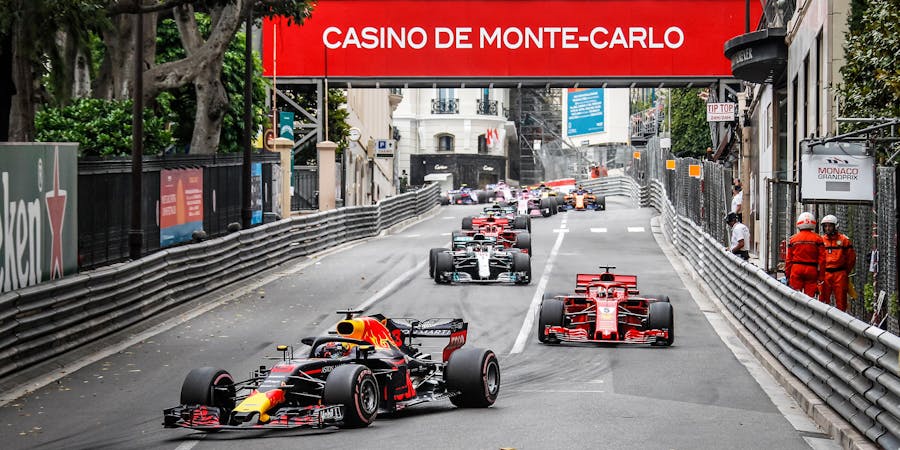 The Event
Three storied competitions make up auto racing's version of the Triple Crown: the Indianapolis 500, the 24 Hours of Le Mans and Formula One's
Monaco
Grand Prix. Monaco's race, held from May 20 to 23 in 2021, has been a tradition since 1929 (though the 2020 event, previously scheduled for May 2020, was cancelled due to the coronavirus outbreak). VIP parties, hundred-million-dollar yachts anchored in Monte Carlo's harbor and Gucci- and diamond-draped tourists strutting around Ferrari-choked streets of the principality are all part of the entertainment of race weekend.
2021 Cruises
Given Formula One's popularity and this spectacular location, it isn't surprising to find that
Monaco Grand Prix cruises
abound in 2021. Most itineraries include an overnight call in Monte Carlo.
To live like a VIP yourself, Windstar's Wind Surf is sailing a seven-night roundtrip Rome itinerary in the Mediterranean that will call in Monaco overnight from May 22 to 23. Look out for Grand Prix-themed offerings like reserved seating at two days of races and a visit to the pits to see the racecars up close. The cruise even touts a Formula One host, Bob Varsha, onboard the ship, where special experiences include a Grand Prix-themed cocktail reception and dinner and race day brunch.
Azamara also has an itinerary scheduled on Azamara Journey that is timed to coincide with the Grand Prix. (Race tickets can be arranged for passengers directly through the cruise line.) Its six-night Mediterranean sailing round trip from Barcelona brings cruisers to Monaco for an overnight call on May 22.
Crystal Cruises is running a 12-night voyage from Rome to Barcelona on Crystal Symphony, bringing cruisers into Monaco for an overnight stay on May 22. Silversea also has a seven-night sailing on Silver Spirit from Rome to Barcelona that calls overnight in Monte Carlo on May 22. Both lines can arrange race viewing on designated excursions. Finally, Star Clippers offers a seven-night sailing from Cannes to Rome on its Royal Clipper that pulls into port in time for the finals on May 23 (though cruisers need to arrange their own event tickets).
---
Kentucky Derby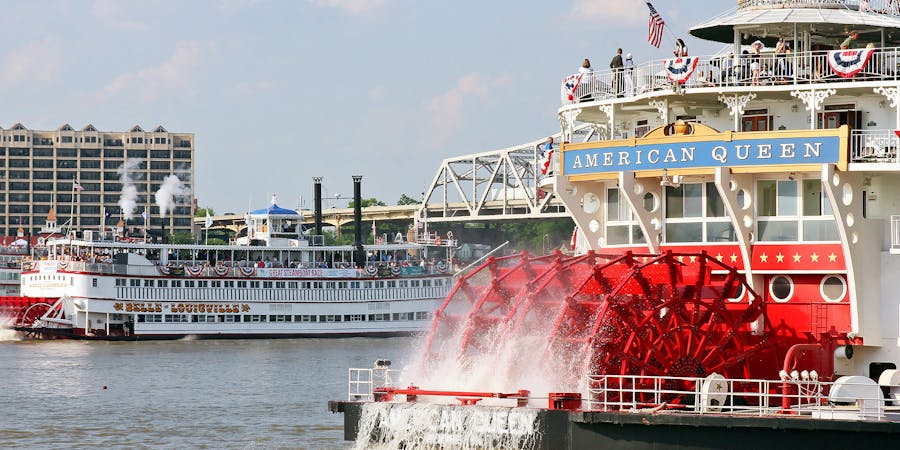 The Event
The traditional kickoff to the Triple Crown of horse races (ahead of the Preakness Stakes and Belmont Stakes), the Kentucky Derby sees 20 of the world's finest thoroughbreds compete on the Churchill Downs racetrack in Louisville, Kentucky. The event is as known for presenting "the most exciting two minutes in sports" as it is for its Southern-styled signatures like mint juleps and over-the-top hats.
The race takes place on the first Saturday of May each year. In 2020, the event was rescheduled to September 5, due to coronavirus. In 2021, the Kentucky Derby will be held on May 2.
2020 Cruises
There are no sailings scheduled to coincide with the postponed Derby date in September of 2020.
2021 Cruises
River cruise line American Queen Steamboat Company offers a Kentucky Derby-themed cruise each year (though the line's planned 2020 Derby event cruise was not rescheduled to line up with the newly postponed date for fall). The 2021 itinerary kicks off in
Cincinnati
on April 25 with a pre-cruise hotel stay, followed by a seven-night Ohio River sailing aboard American Duchess. The ship arrives in Louisville on May 2, where it will call overnight for the event, before disembarking there the following day. Race tickets, with special VIP access, can be arranged directly through the cruise line.
---
British Open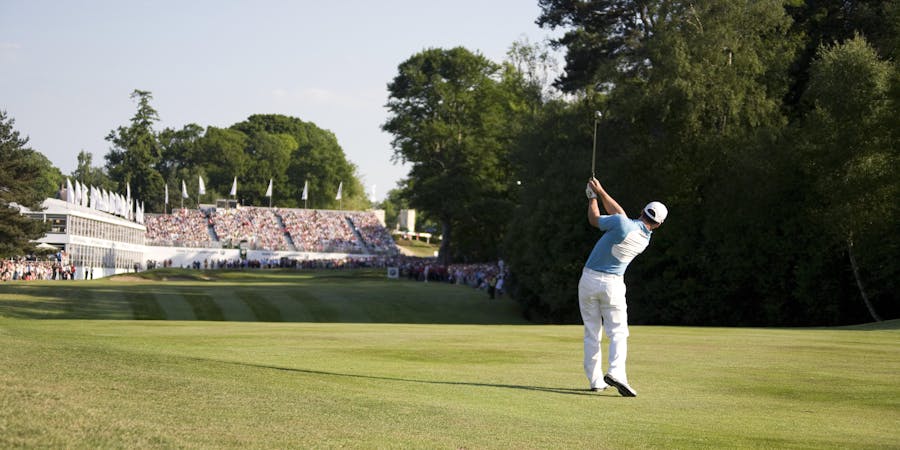 The Event
Attending the British Open is a rite of passage for many golf fans. It's the oldest of four major golf championships and a most coveted ticket; it follows The Masters, the PGA Championship and the U.S. Open. The next contest will be held in 2021 (July 11 through 18) on the storied Old Course of St. Andrews in the coastal town of Carnoustie, Scotland. Note its 2020 installment, previously scheduled to be held at Royal St. George's along the Kent coastline of England, was cancelled due to the COVID-19 pandemic.
2021 Cruises
Azamara partners up with PerryGolf again in 2021 for a 12-night "British Isles Golf Cruise," cruising from
Edinburgh
on July 16, 2021, to Southampton, with port calls in cities like Belfast, Glasgow, Dublin and Liverpool. Fares on the Azamara Journey voyage bundle in six rounds of golf, including an option to hit the links at Royal Portrush (site of The Open in 2019), as well as tickets and ground transfers to the two final rounds of the British Open; participation in this
golf-themed cruise
was on waitlist-only as of press time.
---
Sail Amsterdam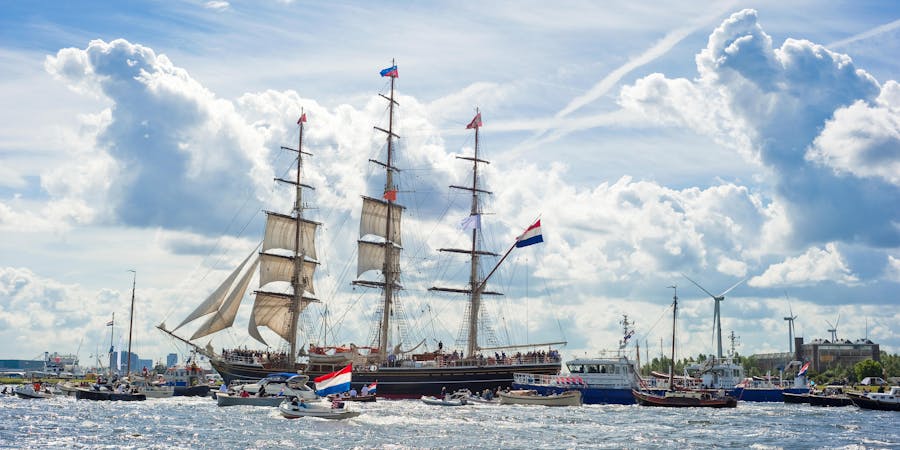 The Event
Occurring just once every five years, Sail Amsterdam (August 12 to 16, 2020) brings together a flotilla of sailboats, tall ships, naval vessels and historic boats for a stunning maritime spectacle.
Amsterdam
's five-day-long festival marks one of the largest nautical event on the planet and kicks off with a huge parade of hundreds of ships, followed by navy shows and waterfront activities.
2020 Cruises
Windstar's Wind Surf is one of the world's largest sailing yachts and will accordingly be one of the festival's main attractions. Sail aboard the line's eight-night "Sail Amsterdam Celebration" voyage from Edinburgh to Tilbury, England (embarking August 9), with stops in England, Belgium and Holland. The trip includes three full days at the Amsterdam event, where cruisers will enjoy a prime position from deck for ogling the hundreds of ships and fireworks display in the harbor.
---
Edinburgh Tattoo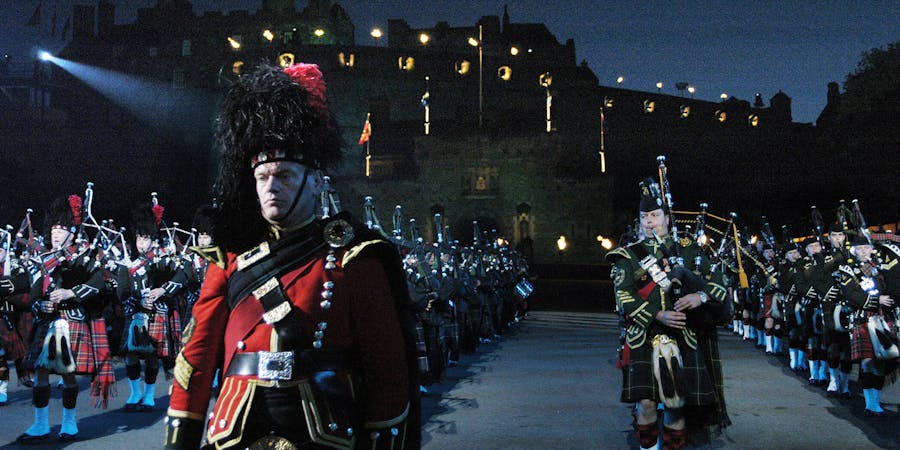 The Event
The Royal Edinburgh Military Tattoo (August 6 to 28, 2021 -- note the 2020 event was cancelled due to COVID-19) takes place at historic Edinburgh Castle and is one of Scotland's most significant cultural events. Some 1,200 performers come from around the globe to present music, dance, military pageantry and more -- with plenty of fireworks, too.
2021 Cruises
Numerous cruise lines have calls in
Edinburgh
that sync up with the event, including these options, which offer overnight calls in the city for a more immersive Tattoo experience. Princess Cruises comes to the table this year with a 14-night cruise aboard Island Princess that features calls in England, Ireland, Northern Ireland, Scotland and Wales en route, including an overnight stop in Edinburgh on August 6 (the first night of the festival).
Another good option is from Holland America, which runs a 14-night "Northern Isles" sailing round trip from Amsterdam on Veendam; the ship stays for two days in Edinburgh during Tattoo time, on August 25 and 26.
Crystal's Crystal Serenity pairs a two-day call in Edinburgh during the festival with a whirl around Scotland via a seven-night voyage from Belfast, Northern Ireland to Dover, England.
Azamara is additionally sailing a 12-night "Scotland Intensive" voyage from Amsterdam to Dublin aboard Azamara Quest that gets cruisers into Edinburgh for an overnight stay on opening night (August 6).
---
Oktoberfest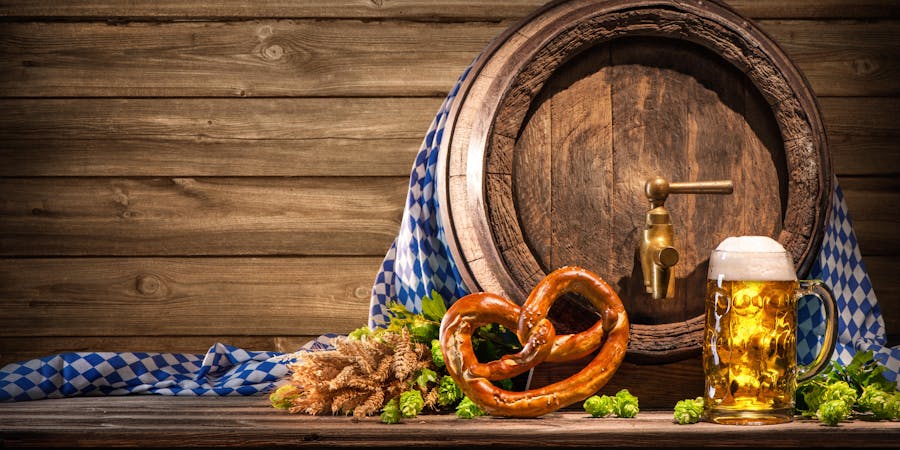 The Event
Billed as the world's largest folk festival, Oktoberfest is celebrated around the globe and most especially throughout Germany -- but its beer-soaked roots are in Bavaria, where the festival was born more than two centuries ago and where it's celebrated by millions of visitors each year.
Known for its cavernous tents, overflowing mugs and festive brass bands, Munich is at the epicenter for this beer-lovers' brouhaha. The 2021 event will unfold at Theresienwiese -- the largest fairground in Munich -- from September 18 to October 3.
2020 Cruises
The Danube River hosts
several river cruise itineraries
that offer access to Munich (via nearby ports like
Vilshofen
, Germany) in time for Oktoberfest. Tauck adds on a two-night land-based stay in Munich proper to its weeklong Danube River itinerary between Amsterdam and Munich (via a transfer from Basel, Switzerland) aboard MS Grace, embarking September 16, or on MS Inspire, embarking September 23. Fares include reserved seating at Munich's Oktoberfest beer tents, as well as beer-themed events en route like a sudsy lunch at an historic Heidelberg brewery.
Other lines feature itineraries that either kick off or conclude in or near Munich during Oktoberfest season, where independent arrangements on either end of the voyage can be made for a more immersive festival experience. Try Adventures by Disney, in partnership with AmaWaterways, for instance, which has an adults-only, seven-night, Oktoberfest-themed journey between Budapest and Munich (via Vilshofen) scheduled on AmaLea. It starts off in Vilshofen on September 26, 2020, with special programming like onboard beer tastings and brewery and pub excursions throughout the voyage in Germany, Austria, Slovakia and Hungary.
2021 Cruises
Tauck repeats its Oktoberfest-themed offerings in 2021, inclusive of a two-night, land-based stay in Munich, paired with weeklong Danube River runs between Amsterdam and Basel, Switzerland, on MS Inspire, embarking September 15, or on MS Grace, departing September 22.
Adventures by Disney/AmaWaterways runs its weeklong Oktoberfest voyages again on AmaLea in 2021. Itineraries run from Munich (via Volshofen) on September 20, 2021, sailing to Budapest, or in reverse, from Budapest (on September 27, 2021) toward Munich.
---
Melbourne Cup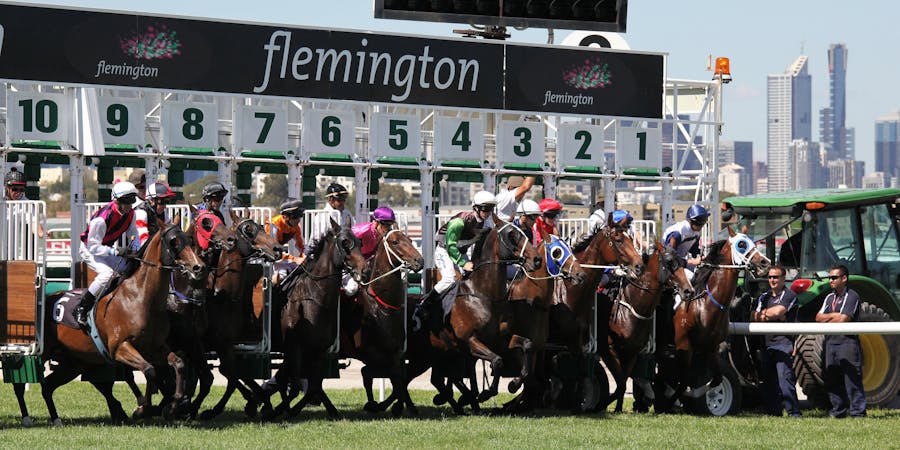 The Event
The
Melbourne
Cup is one of Australia's major thoroughbred horse races, called "the race that stops a nation." Cup Day (November 3 in 2020 and November 2 in 2021) is a public holiday in the state of Victoria, where the race is held, and it's celebrated by many Australians nationwide. Racing fans looking for a more social experience can book special dining packages or participate in a "fashions on the field" contest in which the best-dressed participants on the racecourse can win prizes.
2020 Cruises
Two ships in P&O Australia's fleet will offer Melbourne Cup cruises in 2020. The new Pacific Adventure sails from Sydney on a six-night voyage and Pacific Explorer embarks from Brisbane on a seven-night voyage; both depart on October 31. The ships will dock in Melbourne during the race and include transfers and tickets to the event at the Flemington Racecourse; ticket upgrades can be purchased, including access to the exclusive P&O Enclosure. Back onboard, expect race-themed entertainment and the company of racing personalities; details are to be announced.
Or, Carnival Splendor departs Sydney for a six-night roundtrip sailing on November 1, three days of which it will dock in Melbourne, including the main race day on November 3. Bonus: General admission to the Melbourne Cup and Kennedy Oaks Day is included in Carnival's fare, while onboard racing-themed events will feature tips from to-be-announced racing legends, as well as a "fashion on the fields" fashion show.
2021 Cruises
P&O Australia returns to the Melbourne Cup in 2021 with an eight-night voyage on Pacific Explorer sailing round trip from Brisbane, embarking on October 29, and a six-night sailing from Sydney on Pacific Adventure, leaving October 30. Both ships stop at Melbourne for three days, where cruisers can enjoy included general admission tickets to the Flemington Racecourse-hosted event, with ground transfers.
Carnival Splendor likewise makes its Melbourne Cup run again in 2021; the six-night voyage embarks October 31, sailing round trip from Sydney. It docks in Melbourne for three days, and features most of the same major inclusions and highlights as its Melbourne Cup sailing in 2020.
---
Total Solar Eclipse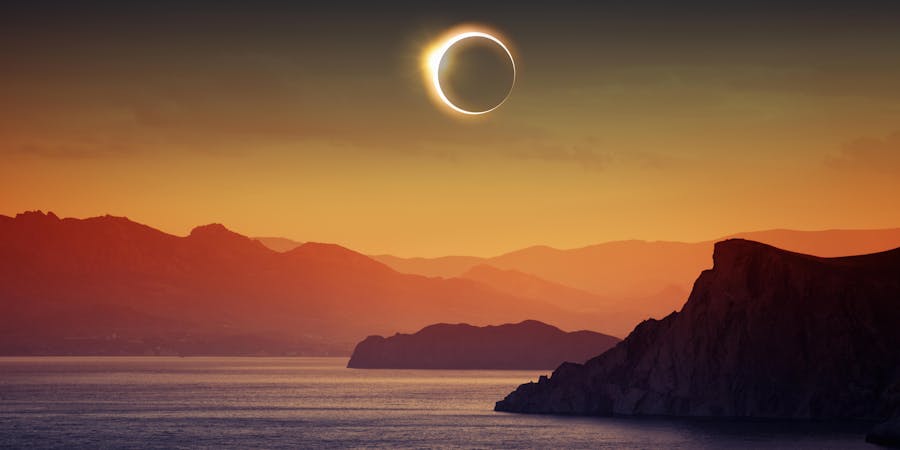 The Event
Witnessing a total solar eclipse is breathtaking spectacle, a phenomenon that occurs roughly every 18 months, when the moon passes between the sun and earth, blocking the sun's rays and casting a shadow on our planet. In order to see the total eclipse, you must be in the path of the moon's shadow. Oftentimes, the best viewing platform for any sort of eclipse or solar event is from the deck of a cruise ship at sea, since it can maneuver into the best spot for viewing.
The next opportunity for a total eclipse comes up on December 14, 2020, with optimum viewing this time around in Chile and parts of Argentina. The phenomenon will happen once again on December 4, 2021 -- this time, with the best viewing from the most southernmost points on the planet, and most especially
Antarctica
.
2020 Cruises
There are a handful of
solar eclipse cruises
that will get you optimised viewing of the 2020 event. Holland America's Westerdam embarks on a lengthy 22-night "South America, Antarctica and Solar Eclipse" voyage from Santiago, Chile (at San Antonio), to Buenos Aires, with an at-sea day planned off the coast of Argentina on December 14, offering prime eclipse viewing from the ship's decks. Onboard, special guest speakers, including an editor at Sky & Telescope magazine, astronomer and even a former astronaut, will lend context to the event.
Princess is offering the chance to witness the total solar eclipse on a similar route (from San Antonio to Buenos Aires), minus the Antarctic visit, on its 15-night Cape Horn and Strait of Magellan itinerary aboard Coral Princess. Passengers can witness the event from the ship's deck while sailing off the coast of Argentina on the 14th.
Finally, California-based tour operator Wilderness Travel is offering an eclipse-themed program with a tropical slant aboard Paul Gauguin (of Paul Gauguin Cruises). On this 14-night French Polynesian voyage, sailing round trip from Papeete, Tahiti, on December 5, you'll be joined by guest expert, explorer/educator Jean-Michel Cousteau; eclipse day viewing will be from aboard the ship, maneuvered to a prime position in the Pacific to allow for optimized day-of event viewing.
2021 Cruises
Several cruise lines are running Antarctica voyages that are scheduled to coincide with the December 2021 total eclipse. Silversea alone has three Antarctica voyages meant to highlight the event, complete with special guest experts, including astronomers. Cruises include a 22-night journey from Buenos Aires to Ushuaia on Silver Wind (embarking November 20, 2021), a 13-night round trip voyage from Ushuaia on Silver Explorer (departing November 26, 2021) and an 11-night round trip sailing from Ushuaia on Silver Cloud (leaving November 30, 2021).
Lindblad Expeditions will likewise have three of its polar vessels -- National Geographic Endurance, National Geographic Explorer and National Geographic Orion -- positioned in the Antarctic for a chance to view the December 2021 eclipse. Each voyage sails round trip from Ushuaia; trip departures are scheduled for November 17 or 18. Each will be operating the line's 24-night Antarctica, South Georgia and the Falklands itinerary, with additional highlights that include visiting colonies of king penguins in South Georgia and albatross breeding grounds in the Falklands. The sailings will be supported by expert and naturalist guides who will offer lectures and insight on the science behind eclipses, as well as a National Geographic photographer ready to offer tutelage on shooting the eclipse phenomenon.
A slate of other companies are also offering eclipse-themed sailings. Among them: Abercrombie & Kent will charter a Ponant vessel -- Le Lyrial – for a 14-night Antarctica round trip voyage from Ushuaia kicking off on November 28. This cruise will highlight special guest astronomy experts, including former astronaut Kathy Sullivan, the first woman to walk in space; eclipse viewing is planned off the coast of the remote South Orkney Islands.
Smithsonian Journeys is also partnering with Ponant to run a special 10-night, eclipse-themed voyage round trip from Ushuaia on the line's ship L'Austral. The ship will dock in the Weddell Sea for optimized viewing of the event.