Alaska is an intriguing, culturally diverse destination with thousands of miles of scenic coastline that make it a natural draw for cruise ships. Each of the ports offers a different perspective on life in the most northerly U.S. state. Ketchikan is a centre for several Alaska Native cultures, Skagway is Gold Rush-era oriented, and Petersburg reflects its Norwegian heritage, while Sitka touts Russian and Alaska Native ties.
Cruise travellers enjoy the history and the frontier ambience of the 49th state, but its wildlife and scenery are the main attractions. Towering mountains, massive glaciers, tranquil (and sometimes turbulent) waterways, countless acres of rainforest and Arctic tundra are the magnets for cruise passengers. Whales, eagles, bears, moose, seals and seabirds might be seen from your ship, in port or on a shore tour.
Alaska's biggest shortcoming is the weather. By booking an Alaska cruise, travellers are likely to be trading in a week of warmer weather at home for the possibility of gray or rainy days and chilly midsummer temps. Helicopter and float plane tours are regularly cancelled for imperfect conditions, and no tour can guarantee wildlife viewings. But, if you're willing to be flexible and take your chances, a visit to Alaska will not disappoint.
---
---
Best Time for Alaska Cruises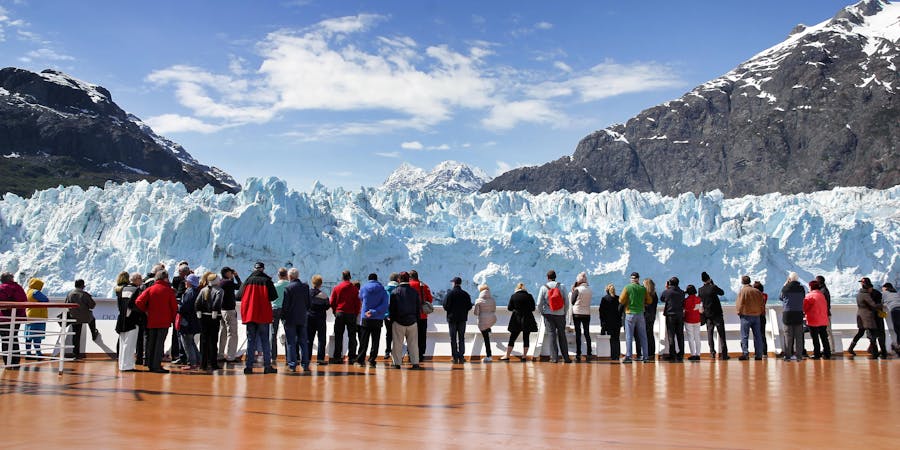 The Alaska cruise season runs from late April to September, with high season typically June through August. However, the best time to go is rather subjective.
June, July and August are the warmest months (with highs ranging from the 60s to 70s in most of the state), but July and August, especially, can be quite rainy. The further into the summer you are, the better your chances of seeing wildlife on the various expeditions; these months are also the best bets if you want to have a variety of fish to reel in on a shore excursion.
May and September offer cheaper cruise fares and fewer crowds; however, due to more unpredictable weather, shore excursions have a greater chance of being cancelled than they do in high season -- especially boat and helicopter tours. May is one of the driest sailing season months in the Inside Passage region, but you may find snow on the ground -- great for scenic photos, less ideal for hiking.
September offers the best possibility for cruisers to catch the Northern Lights, as well as great end-of-season shopping deals for souvenir-hunters. However, at this time, the Gulf of Alaska is the choppiest and not recommended for travellers who get seasick. Also, certain sections of the access road to Denali National Park have been known to close in September due to snow.
Featured Videos
Here's What It's Like Onboard the First Large Cruise Ship to Alaska in 21 Months
'Top Chef' Winner Kristen Kish Joins Holland America Line's Award-winning Culinary Council
Alaska 2021: Inside Passage Businesses Talk About A Devastating Season Without Cruise Tourists
Rudi Sodamin Makes A Special, Thanksgiving-themed "Food Faces" Video For Cruise Critic
4 Cool Features on Holland America's Nieuw Statendam
Photo Tour of Regal Princess
Carnival Corporation Introduces the Ocean Medallion at CES
4 Types Of Cruisers Who Would Love Holland America's Koningsdam
Gavin Macleod - Capt. Stubing On "The Love Boat" -- Cruise Critic Interview (2013)
Carnival Mardi Gras' Excel Suite and Loft 19
Alaska Cruise Lines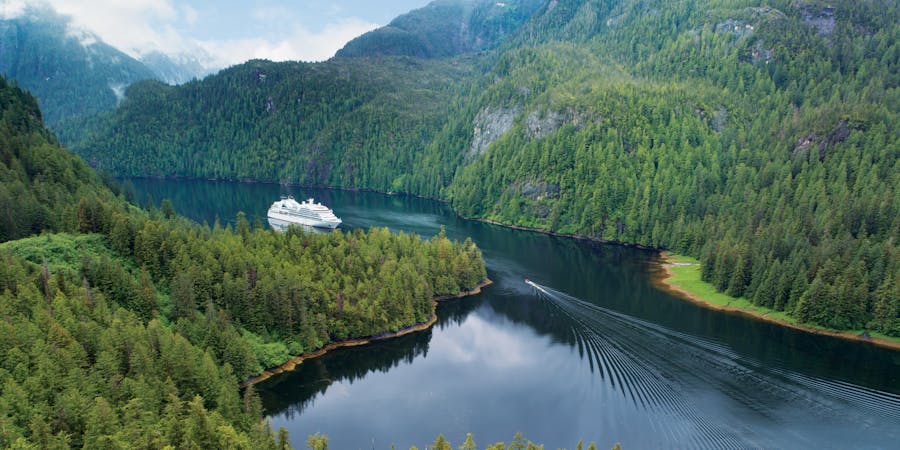 The two biggest Alaska operators are Princess and Holland America, but nearly every major cruise line has at least one ship in Alaska each summer, including Celebrity, Carnival, Disney, Norwegian and Royal Caribbean. You can also choose from luxury cruises on smaller ships (including Azamara, Crystal, Oceania, Regent Seven Seas, Seabourn, Silversea, Viking Ocean and Windstar) and expedition cruises (Alaskan Dream Cruises, Lindblad, UnCruise Adventures) that focus more on up-close-and-personal nature and wildlife encounters.
Alaska Cruise Itineraries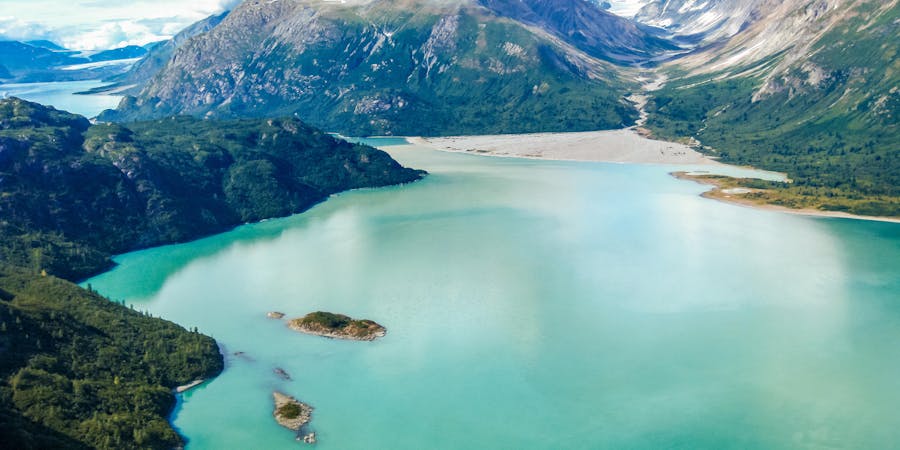 You can choose from a few basic itineraries in Alaska.
Inside Passage: These typically seven-night voyages often sail round trip, usually from Seattle or Vancouver, making air travel arrangements easier and generally less expensive than they are for one-way cruises. The Inside Passage is a sheltered waterway between Pacific Coast islands that lends itself to calm, scenic cruising.
The main ports of call are Juneau, Skagway, Sitka and Ketchikan, but some ships stop in spots like Icy Strait, Haines, Wrangell or Petersburg; sailings from Seattle must call on a Canadian port (typically Victoria or Vancouver).
Gulf of Alaska: The Gulf itinerary is typically a seven-night one-way cruise between Seattle/Vancouver and Seward/Whittier, the gateway ports for Anchorage. Itineraries here reach farther north and have better access to Anchorage, Alaska's biggest city (and the gateway for many land-based cruise tour offerings); Kenai Peninsula ports; and regional glaciers.
Would-be cruisers sometimes mistakenly believe that a Gulf of Alaska itinerary does not offer passengers the opportunity to visit the Inside Passage ports. It does. To get between Anchorage ports -- located on the stretch of water north of Glacier Bay and on the south side of the Kenai Peninsula -- and either Seattle or Vancouver, it is necessary to pass along the Inside Passage coastal strip. A typical Gulf of Alaska cruise will probably likewise include stops in Ketchikan, Juneau and Skagway, as well as Sitka.
Longer Sailings: A few lines offer 10- to 14-night Alaska cruises, often round trip or one-way from San Francisco. Holland America offers a two-week trip, running round trip from Seattle, that actually docks in Anchorage proper, with options for long day trips into the interior.
Expedition Cruises: Cruisers can opt for a different kind of trip on the smaller expedition vessels of lines like UnCruise Adventures, Alaskan Dream Cruises and Lindblad Expeditions. These cruises typically focus more on nature and wildlife, rather than the big-name ports.
The advantage of these small ships is that they can go to places that the big boys can't -- for instance, the Alaska Native village of Kake, Wrangell Narrows and other tiny inlets too shallow for the mega-ships. The ships have the maneuverability to follow aquatic wildlife (within legal limits) when it's spotted. Many also employ Zodiac rafts, kayaks and hiking trips to bring passengers closer to glaciers and creatures.
Alaska Cruise Port Highlights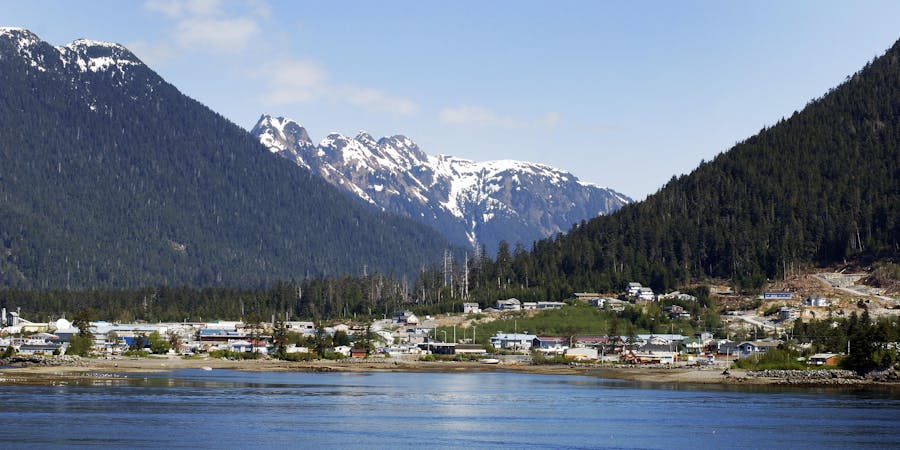 Ketchikan, Alaska: Creek Street is the main attraction there. Built on pilings over the water, it once was the city's red light district and now is lined with funky stores and restaurants overlooking canoeists and leaping salmon. Ketchikan is the gateway port for scenic tours of the Tongass National Forest and Misty Fjords, as well as fishing trips. Be prepared: It's one of the rainiest cities in the U.S.
Juneau, Alaska: In Alaska's capital, you can kayak, canoe or hike close to Mendenhall Glacier. In town, the Mount Roberts Tramway takes riders 1,800 feet up for gorgeous views and hiking trails. Or enjoy honky-tonk music and wholesome grub at the raucous Red Dog Saloon. The local culinary scene has been booming of late, and some solid breweries are on hand, too.
Skagway, Alaska: Skagway came into being in the last part of the 19th century as the nearest port of entry for stampeders making their way into the Klondike in search of gold. Today, a train ride along the narrow-gauge White Pass & Yukon Route Railroad is a must for cruise passengers. The tracks follow the staggeringly photogenic route the gold-seekers took -- on foot -- over the pass to the Canadian border. In town, take a Gold Rush history tour, or spend your own gold at the various shops.
Sitka, Alaska: Sitka offers a unique cultural melting pot for both Alaska Native and Russian-descent populations. Many remnants of Alaska's Russian (St. Michael's Cathedral, the Russian Bishop's House) and Tlingit (including a clan house and totem-filled park) heritage are found there. Another highlight is the Alaska Raptor Center, a not-for-profit facility dedicated to healing injured birds of prey, primarily American eagles.
Scenic cruising A key part of any Alaska itinerary is scenic cruising. In addition to the Inside Passage, ships may visit Tracy Arm/Sawyer Glacier, Hubbard Glacier, Glacier Bay or College Fjord. Bring binoculars and warm outerwear to best enjoy the views of glaciers calving, aquatic life and birds, and gorgeous scenery. Some ships will bring naturalists onboard to narrate.
Learn more about Alaska Cruises.
Alaska Cruise Tips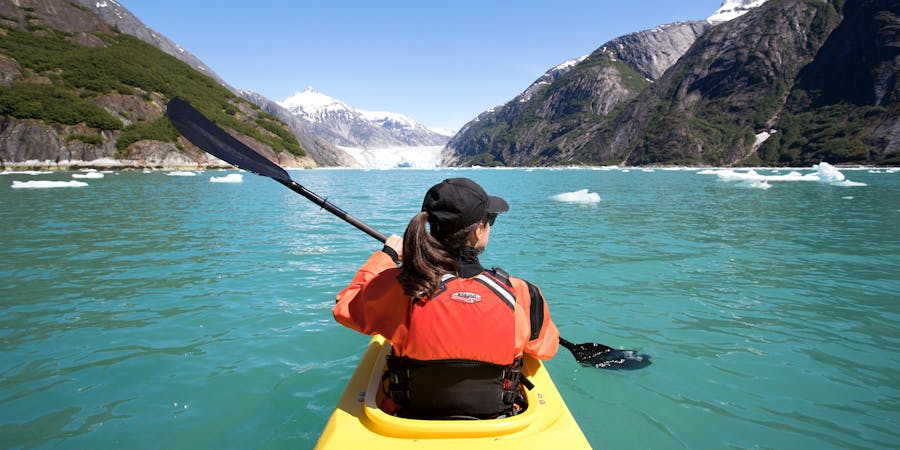 Consider a cruise tour. Alaska has much to offer that can only be experienced by touring ashore, either before or after your cruise. The one-way Gulf itineraries lend themselves more readily to Alaska touring, as they begin or end in Alaska. On either end of your sailing, you can tour on your own or book a cruise tour that combines a cruise and a land tour, which usually runs three to seven nights. Popular destinations include Denali National Park (for wildlife viewing), Talkeetna (best place for Denali views) and Fairbanks (Alaska pipeline). Cruise tour land packages are also available to spots like Anchorage, the Kenai Peninsula and Canada's Yukon Territory.
Seasick prone? Beware. A word of caution: If you are going to run into choppy seas, it's more likely to be in the open waters of the Gulf of Alaska than in the largely protected stretch of the Inside Passage. If you're concerned, book a northbound cruise so you'll cruise the Gulf at the end of the trip when you have your sea legs. If you get seasick easily, also think twice about roundtrip cruises from Seattle (or from other spots in the continental U.S.) that spend days cruising in the open ocean.
Read more on The World's Roughest Waters for Cruising.
Weather is unpredictable in Alaska. Temperatures can change considerably from one destination to the next, and even on otherwise warm days, it can be quite cool cruising by a massive glacier or when the sun dips behind a cloud. The trick is to dress in layers of clothing so that you can peel off (or add on) slowly as the thermometer dictates. You will want to pack a bathing suit and a very warm fleece jacket -- and you'll likely wear both at different times. Be prepared for bugs, too.
Avoid the crowds. To minimise joining the masses during high season, consider a shoulder-season sailing (in late April, May or September), or select a ship that embarks midweek.